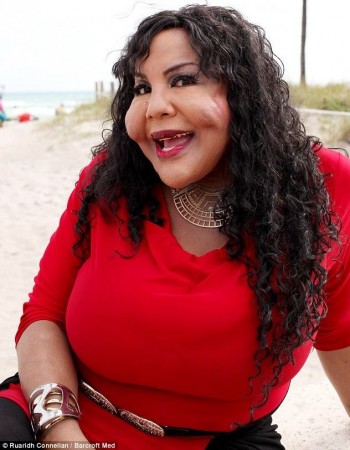 Rajee R. Narinesingh, 46, born a man, with a desire of changing facial appearance, went on for some series of breast, cheek, butt and lip augmentation. But sadly, the surgery left deformed looks on her face. To rectify this, Narinesingh had to undergo series of plastic surgeries to gain her confidence back, which made her earn the unfortunately nickname "cement face".
"I got injections in my face and my hips and my buttocks and initially I was fine. But then the nightmare started. It first felt like a huge boil on the side of my face and then it kept getting bigger and bigger as the day went along. It got really painful and then suddenly green pus exploded out of my face and onto the mirror. It was green and yellow and mixed with blood. It was terrible. Sometimes I wake up in bed in the middle of the night and I ask myself: 'What have you done?" The Mirror quoted Narinesingh.
Narinesingh was one among those unfortunate victims of the infamous plastic surgeon, Oneal Ron Morris. Morris, a transgender female, was jailed for one year in January 2014 after she admitted of practicing medicine without holding a license.
Narinesingh, the self conscious transgender woman, suffered from depression, post-traumatic stress and agoraphobia post surgeries. Thankfully, a ray of hope shined for Narinesingh in the form of Dr. John Martin from the Coral Gables Cosmetic Reconstructive Surgery in Miami. Dr. Martin's treatment combined with laser therapy has started reversing the damage left by the previous procedures.
The doctor is positive in sufficiently subsiding Narinesingh's inflammations in buttocks and breast in few more months.