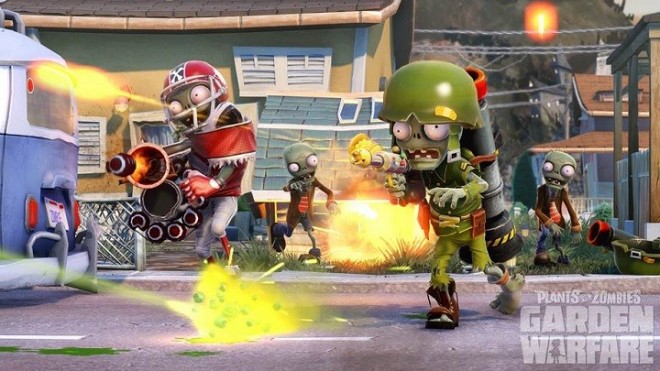 PopCap Games' upcoming third-person shooter game Plants vs. Zombies: Garden Warfare will reportedly be a multiplayer-only game. The revelation was made by the developers in a recent interview with Shacknews.
Garden Warfare is a spin-off of the developer's popular tower defense series and the game was first shown during the E3 2013 convention in June.
Garden Warfare will be supporting four-player co-op and up to 24 players in competitive modes. It is expected to be released first for the Xbox One and will be priced at $39.99. The game will also be released on Xbox 360 and PC at a later date and at slightly reduced price of $29.99. Players can customize new plants and zombies with numerous unique items.
Garden Warfare's Xbox One version will have exclusive content called Boss Mode, which allows players to control Doctor Zomboss or Crazy Dave. A trailer that was released Aug 20 showed Doctor Zomboss saying that he has a device called Zombox, which lets players beat plants "without touching dirt."
Players will also be able to use Smart Glass and Kinect features to direct their attacks across the map, Polygon reported. Smart Glass will also allow players to have a top-down view of the battlefield, which will enable them to use health drops, revive stations and artillery strikes abilities. The Xbox One version will also have an exclusive split screen offline co-op.
The game's add-ons are still in development and it is not yet known if they will be free add-ons or paid.
"We definitely want to build on the game once it's launched. We're definitely taking a cue from Plants vs. Zombies 2. Using DLC and new content updates, we want to keep players engaged in the long haul," Justin Wiebe, creative director of PopCap told Shacknews.
The game will be powered by Frostbite engine.
Plants vs. Zombies 2 is the studio's latest in the series. It is a free-to-play game currently available on both iOS and Android platforms. It was however an iOS exclusive, and it was recently released for Android and currently it is only available in China, Phandroid reported. Special plants and other features can be purchased via in-game purchases.
Plants vs. Zombies: Garden Warfare will be released in 2014 for Xbox One, Xbox 360 and for PC.