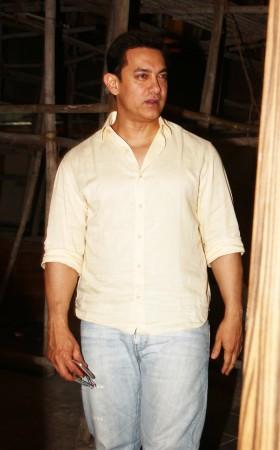 Aamir Khan, who is still riding high on the success of Rajkumar Hirani's "PK" where he appeared alongside Anushka Sharma, has already started preparing for his next film.
Khan, who has no releases this year, has teamed up with Nitesh Tiwari of the "Chillar Party" fame for his much ambitious project "Dangal". Recently, a leaked picture of the actor showed him in a salt-and-pepper look. It is being speculated as his look in the film.
In "Dangal", Khan will play the role of a wrestler. The film will show the wrestler in three different stages of his life. The 49-year-old actor will play a 19-year-old teenager, then a 29-year-old, but a major portion of the film will see him as a 55-year-old man.
"For a major chunk of the film, he will be seen as a man in his fifties, who is also the father of two grown-up daughters," an insider told Hindustan Times.
While "Dangal" is believed to be a biopic, based on the life of famous wrestler Mahavir Phogat - the father of wrestlers Geeta and Babita Kumari Phogat, no official confirmation has been made in this regard as yet.
The film will reportedly revolve around educating parents and letting their children follow their dreams.
Currently, the makers are working on getting Khan's perfect look as the film requires him to look different in the three stages of the wrestler's life. Further, Mr. Perfectionist is working hard to build his physique for the film.
"Usually, film-makers require Aamir to be particular about his food intake, but for a change, he has been given a free hand to feast on anything he wants," the insider added.