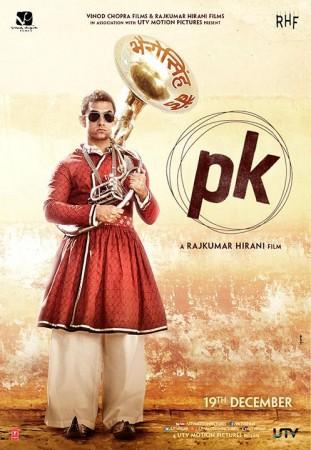 The makers of Aamir Khan's "PK" have released its second poster, and it's not 'nude' this time.
A few weeks ago, when the first-look was launched, it drew a lot of flak owing to its risqué content. Known for pulling off something different every time, Khan, this time is seen in Rajasthani attire and a trumpet has switched places with the infamous 'transistor'.
Decoding the superstar's role from two of his looks is a mighty task, yet Khan insists there's a story in each of them. He reportedly said the makers have devised a unique marketing strategy in which eight to 10 posters will be unveiled.
"We want to confuse the people with the release of every poster. But there is a story in each and every image that we reveal," the actor told PTI. Trust the 49-year-old actor to come up with novel promotional tricks. An intelligent way to keep fans guessing, while generating right amount of buzz.
Khan also tweeted the new poster and wrote in Bhojpuri, "Ei dekha, humaar dusra postarwa.... ei ma tiraanjister bhi nahi hai... ;) Ka samjhey?" The actor is doling out information but just enough to poke the curious minds. The motion poster, however, has a funny background score and adds to the second look.
Clearing his stand on the first poster, Mr Perfectionist said he was happy with the kind of reaction he got out of it.
"Some people have loved it (poster) and some people didn't like it. The jokes were really funny. Some people even posed in the same fashion and we really enjoyed it. But you all will understand once you see the film. I am happy with the response," he said.
Archrival Shah Rukh Khan had recently poked fun at the first-look poster which had Aamir Khan standing 'nude' on a railway track with a transistor covering his privates. The "Taare Zameen Par" actor took it in his stride and said that it doesn't really bother him when 'friends' make such comments.
Slated for release on 19 December, Rajkumar Hirani's "PK" has Anushka Sharma, Sushant Singh Rajput, and Boman Irani in pivotal roles.
Watch the motion poster here: