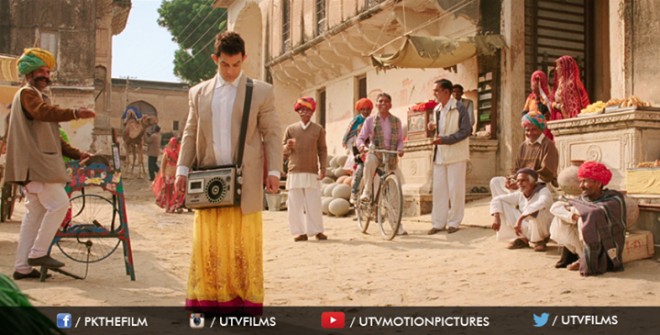 Aamir Khan's "PK" ("Peekay") witnessed decent growth on the second day at the domestic box office. The film, which minted ₹26.63 crore on the opening day, noticed about 15% growth on the second day of its release.
"PK" minted ₹30.34 crore crore on day 2 and its two-day collections amount to over ₹56.97 core. The film witnessed growth during afternoon and evening shows on the second day, according to Koimoi. It is likely to see good growth on Sunday, 21 December and mint around ₹90 crore in its first weekend at the domestic box office.
Although the film took good opening, it failed to beat "Happy New Year" opening day record amounting to more than ₹44 crore. It also failed to surpass "Dhoom 3" first-day collections, which stand is ₹36 crore, according to Bollywood Hungama.
The Aamir starrer is unlikely to surpass "Happy New Year" and "Dhoom 3" opening weekend collections, which stand at over ₹100 crore. However, the film will beat Salman Khan's "Kick" first weekend figures amounting to over ₹83 crore.
The comedy drama is expected to witness growth in the coming days considering the positive word-of-mouth. The long Christmas holidays are likely to help boost the film's collections. The film has failed to create the opening day record as expected and is unlikely to create opening weekend record.
The Aamir-starrer will surpass the ₹100-crore mark by Monday, 22 December and it will be interesting to see how quickly the film crosses the ₹200-crore mark. It also needs to be seen if the Aamir-starrer manages to break other records set by "Kick," "Happy New Year" and "Dhoom 3".
"Kick" is the highest grossing film of 2014 in India, while "Happy New Year" is this year's biggest grosser at the worldwide box office. Aamir's "Dhoom 3" is the highest grossing Bollywood film of all time. With "PK" getting a good response, it needs to be seen if the film will be able to beat any of these records.
Directed by Raj Kumar Hirani, "PK" is about Aamir who plays an alien in the film. The film received positive reviews from the critics as well as from the audience. Aamir's performance received accolades with many calling it as his best. Anushka Sharma, Sanjay Dutt, Saurab Shukla, Sushant Singh Rajput and Boman Irani were also appreciated for their performances in the film.