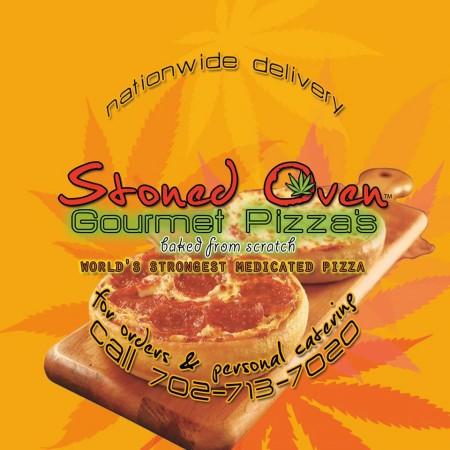 As Americans' acceptance of cannabis grows, the market for offshoot and niche products induced with pot is also swelling.
With startups coming up with gourmet pizzas and pizza sauces induced with cannabis, stoners are sure to go on a pizza binge at midnight.
Stoned Oven Gourmet Pizzas, a start-up created by a 24-year-old entrepreneur Henry Mark, is selling cannabis-laced six-inch frozen pizzas in medical marijuana dispensaries around Los Angeles. Costing $10 each, the pizzas with 250 mg of ethanol-extracted THC concentrate has gained much popularity and are made in the quantity of couple of thousands each week, the LA Times reported.
Mark claims that marijuana cannot be tasted in his pizzas, which would make it easy to trick anyone. His advice is to eat a quarter of these pot-induced pizzas, drink some water and wait for 30 minutes before deciding to try some more.
He hopes that the gaining popularity of his cannabis pizzas would allow them to use it even for serious medical treatments. "We want to be able to get a deal with hospitals," Mark says. "We can [treat] cancer with pizzas!"
Meanwhile, another LA-based company, Podey Pizza, has started selling cannabis-infused pizza sauce at marijuana dispensaries in Los Angeles, San Francisco, Washington State and Colorado.
Calling themselves the "Purveyors of the world's first cannabis infused pizza sauce", Podey Pizza was born out of a need for a savoury edible product that was just as much potent as it was delicious to consume, claims their website.
Sharing the concern of Mark, Podey Pizza also says that the cannabis edible market has been plagued by inconsistent potency, improper labelling, and a general lack of ethics regarding the ingredients used in the recipe in recent years.
"To solve this problem, we've explored every way to consistently medicate our sauce, as well as sourcing local, organic ingredients that are good for us. Working with expert pizza chefs, certified analytics labs, and plenty of trial and error, Podey Pizza was born," they claim in the website.
Have you tried our #cannabisinfused pizza sauce? #medicalcannabis #edibles #prop215 #mmj #sb420 #podeypizza pic.twitter.com/7jlVD8b887

— Podey Pizza (@PodeyPizza) September 16, 2014
They entice the clientele with the message, "Spread evenly across your dough of choice, garnish with cheese and toppings, and prepare to transform your body's personal state of awareness."
Every 5-ounce jar of Podey Pizza sauce is sold for $20 with 300mg of medical cannabis, which is sufficient for one giant pizza or two smaller ones, Steve Thomas, Podey Pizza's vice chairman of operations, told Ganja news.
Thomas stated that the sauce makes use of tomatoes, combined with cannabis-laced safflower oil and teased that they might come out with a garlickly model or extra of a butter sauce in the future.
Some time back, Mega ILL cafe in Vancouver Canada had also made headlines by promoting a "medicated pizza", which is drizzled with oil extracted from weed before being cooked.
Mega ILL cafe, which strives to offer healthy food "in a pot friendly environment with a positive attitude and outlook on life", has many marijuana-induced pizza options that have their "baked" customer drooling, including El Luchador, Plain Jane, the Rocketarian, the Eden and the Samoan.