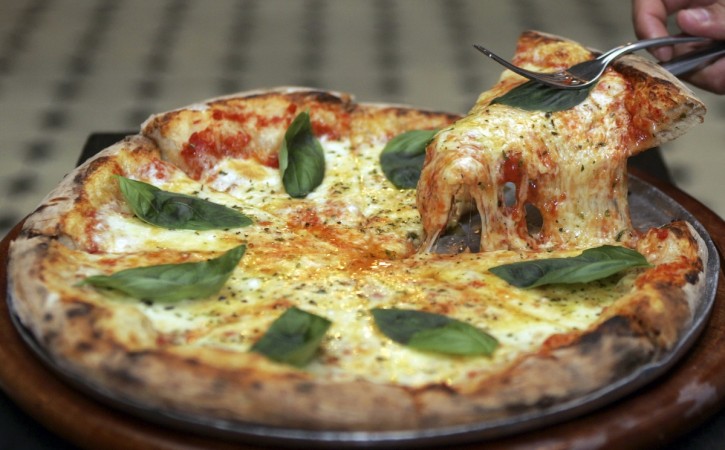 October is all about the leaves turning red and kids running around the neighbourhood wearing outrageous costumes, trick-or-treating, and.. Pizza! The entire month of October is dedicated to this ubiquitously loved cheesy, saucy, fast food.
October is celebrated as National Pizza Month, mainly in the United States and in many parts of Canada. While you may not need the excuse of it being the pizza month to divulge in a cheesy pizza, why not use it to experiment with some easy-to-cook homemade pizza recipes?
Macaroni and Cheese Pizza
All you need for this easy-to-make pizza are milk, cheese, pizza base, olive oil and grated cheese for toppis. You start by boiling the macaroni and adding 3 slices of American cheese to 1/4 cup of milk to make a cheese sauce. Stir the sauce over low heat until melted.
Brush pizza crust with olive oil and top it with the cooked macaroni and add cheese on top. Pour the melted cheese sauce over it and bake the pizza at 220 degrees Celsius for 10-12 minutes and cut it up into slices and serve this delicious dish hot.
Easy Mushroom and Tomato Pizza
The main ingredients for this simple pizza are three mushrooms, a handful of cherry tomatoes, pizza sauce, cheese and a pizza base.
Chop the mushroom into slender pieces and the tomatoes into halves, and set them aside before spreading pizza sauce evenly on the pizza base. Sprinkle shredded cheese lavishly over the sauce and decorate with the toppings already set aside.
Pour a little bit of the sauce over the toppings as well and pop it into the oven, which has been pre-heated at 180 degree Celsius and leave it at 220 degree Celsius for about 20 minutes.
Loaded Baked Potato Pizza
You should take a cheat day from diet plans when you you bake this delicious pizza at home.
Start making the pizza by pouring some melted butter on cooked, diced potatoes, before adding some garlic powder, salt, pepper and oregano and mix them together. Add the pizza sauce of your choice on the crust before sprinkling the prepared potato mix.
Top it with every ingredient you would normally add in your baked potato, like bacon and green onions, before laying some cheese dressing over it. Bake it at 400 degree Fahrenheit for 15 to 20 minutes and loaded baked potato pizza is ready.
Taco Pizza
Anyone who has a love for combining cuisines, namely Mexican and Italian is going to love this recipe.
Heat some onions in a pan with salt, before adding some chorizo to the mix. After cooking for about two minutes, bring in some chopped garlic to the pan and heat for two minutes and keep it away, while you keep some ground beef on the heat, till it gets caramelised.
Add this to the onion mix, before adding some oregano, ground cumin, salt, ground black pepper, salantro and chili powder and stir it out on heat.
Let the spices mix with all the ingredients before introducing diced tomatoes into the mix and a pinch of sugar. Pour your taco mix on top of the pizza base and sprinkle cheese over it.
Decorate it with some sliced tomatoes before popping it in the oven. Top the crunchy pizza with taco toppings like guacamole, spring onions and so on.
Bacon Cheeseburger Pizza
Combining two of the most popular fast foods of all time, cheese burger and pizza, makes for one killer dish and all you need it are 5-6 cooked slices of bacon, 1/2 cup hamburger, cheese of your choice, a pizza base and some yummy pizza sauce.
First, cook bacon and hamburger before separating them into pieces to be used on the pizza. Spread your pizza sauce on your base, add the bacon-hamburger topping along with generous amounts of cheese and bake the entire thing for 9 minutes at 550 degree Celsius.