A Pizza Hut joint in Australia faced much flak for an insensitive promotion that promised customers free pets for making bulk purchases.
The Pizza Hut joint, located in the suburb of Mount Waveyly, Southeast Melbourne, placed an advertisement bulletin on their window that read, "Buy any 10 large pizzas and get one free small animal from Pets Story."
The tasteless giveaway received immediate condemnation on social media, especially after a local animal rights organization Oscar's Law, demanded to take off the sign.
On the official page of Oscar's Law, along with a picture of the promotion sign posted, "We were alerted to this sign in Pizza Hut Mt Waverley Victoria store this morning. We headed down to the petshop and after discussions with us they agreed to stop the promotion and agreed it was a bad idea! Not wrong there Pets Story! Pizza hut have now covered this sign with white paper, they have not removed it. Head over to Pizza Hut facebook page and politely ask them to remove the signs completely!"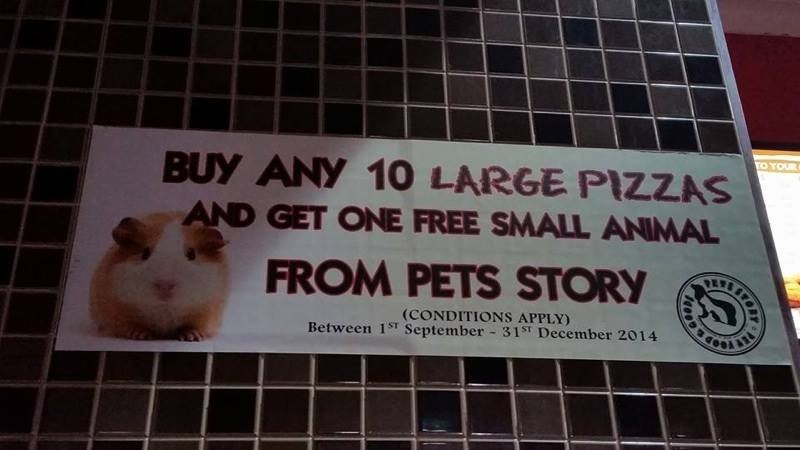 "Hey @PizzaHutAus not acceptable, I've been to stupid petshop, DEAL is off, remove signs from yr Mt Waverley store now," tweeted Debra Tranter.
"First the lunacy of #AFLLions and now Pizza Huit wants to abuse animals by giving them away with pizzas" tweeted John Newell.
Nora Nolan posted, "A Pizza Hut is OFFERING free small pets when you order 10 pizzas. That's right. The new punishment for being fat, is being a hamster owner."
Pizza Hut took to their various social media pages to apologise for the insensitive promotion. On 14 September, Pizza Hut apologised to everyone who were offended by the promotion, which it claimed was "not approved by Pizza Hut Australia nor was condoned in any circumstances", on their Facebook page.
They further thanked Oscar's Law and everyone else who brought the tasteless promotion to their attention and said, "On behalf of Pizza Hut Australia we once again apologise for this thoughtless promotion ever occurring and would like to reassure you all that this matter is being seriously dealt with."
Oscar's Law has acknowledged the apology and posted, "Hooray !! Thank you Pizza Hut and thank you to all the amazing animal advocates on our page !!" in celebration.