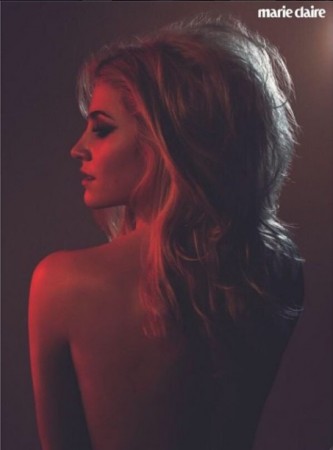 English singer Pixie Lott, who is known for her single "Mama Do (Uh Oh, Uh Oh)", snapped nude and semi-nude photos of herself for the latest issue of Maria Claire magazine.
While the celeb exposed her back in one of the images, she wore a see-through dress in another picture.
The February issue of the publication, which was released on 2 January, shows two images of the "Love you to Death" singer. In a portrait picture, she poses her side face and slim back to the camera, while in another, the 23-year-old is seen in a lace top, covering her modesty with raised legs, reported Mirror.
Meanwhile, Lott talked about the trending colour for the Spring/Summer season and she believes that hot pink will be in trend this year. "I hear on the grapevine that the colour to be rocking for SS15 is hot pink so I will be sporting that in a quirky vibe," Just Jared Jr. quoted the celeb.
"I've never really been a trainer girl but I am embracing it more for SS15 and mixing them up with tailoring and smart wear because there are some amazing pairs coming in," she added.
The "All About Tonight" singer also shared details about her marriage plans with four-year-old boy friend Oliver Cheshire. She is reportedly planning to get married twice in different locations – a massive wedding in England and a small ceremony in any other country.
But the "Nasty" singer also said that she is not ready to share wedding vows with her love yet, since she feels that they are too young to lead a family life.