Mysskin is back with "Pisasu". The director's last movie "Onayum Aatukuttiyum" did not live up to the audience's expectations and so he wants to return to his good form with the latest flick.
"Pisasu" is a horror-thriller produced by ace filmmaker Bala. This combination has made people wait for its release. The movie features Naga, Prayaga Martin, Harish Uthaman, Radharavi, Kalyani Natarajan and Kani Kusruti. The flick has Arrol Corelli's music and Ravi Roy's cinematography. Gopinath is the editor of the movie.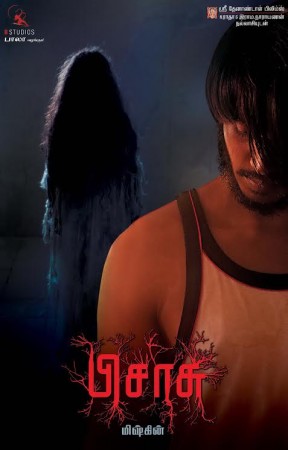 "Pisasu" stands different from the usual horror films as we get to see a good ghost in the movie. This ghost will not try to seek revenge or tries to create havoc in anybody's life. Prayaga will be seen in the role of a ghost in the film.
She gets hit by a car and the hero, who does not have any connection with her, tries to save her life. But she dies on her way to the hospital. The real problem begins for him once he realises that she has turned a ghost and lives at his home. However, she is not seeking revenge against anyone for her death. Then, what does she want? You have to watch the movie to know it.
The reviews posted by people, who have seen "Pisasu", clearly say that Mysskin has a winner in his hand. People have enjoyed the brilliant storyline and impressive performance by the lead actors along with Radha Ravi. Technically, the editing and the background score excells in the movie.
Here, we bring you the live response for the film from the audience.
Haricharan Pudipeddi Posts
As Mysskin beautifully explained in one of the interviews, #Pissasu is compassion. 4 on 5
#Pissasu music elevates the film to great heights. Those violins will tug at your heartstrings. Big plus is running time of 113 mins
Mysskin nails it in #Pissasu. Beautifully made paranormal thriller that kicks all the clichés of horror movies in the crotch. Loved it
#Pissasu interval. Loved it so far. Music just sweeps you off your feet. Pls watch in a theatre with great sound
#Pissasu Totally forgot to write about Radha Ravi's phenomenal performance. He pulls off such a powerful role with ease.
Rajasekar Posts
#Pisaasu is a poetic, feel-good horror movie. Yes, you read it right... Full review soon :)
Totally loved #Mysskin's Pisaasu - whattey movie :)
Siddharth Srinivas Posts
#Pisaasu: Out of the box attempt which lacks the thrill factor and connect. Barring the music, this didn't work for me.
#Pisaasu Interval: Decent, but doesn't completely feel like a Mysskin film. The motive isn't unveiled yet.
#Pisaasu: Definitely watchable for its different style & presentation, just felt Mysskin's imagination went a lil overboard with this one.
Prashanth Tweets
Done watching #pisaasu , one word - mersal!
Sema performance by Radha ravi #pisaasu
#pisaasu interval - looks like a winner, can't wait for second half.
Kokki Kumaru Writes
#pisasu If you want to see good movie,then watch it.
#pisasu Mysskin Once Again proved He is legend..
#pisasu My Mark = 4.25/5 , Climax 5/5 ( HATSOFF MYSKIN ) Such a brilliant Love Thriller Movie...
MC MindCasino Posts
#Pisaasu - Horror Thriller In Mysskin's Style. - Those Violin Scores by Arrol Corelli reminds me of Raja Sir
#Pisaasu - Camera Angles, sema... one of the best movie in 2014. - Radha Ravi pakka - u r alwys a legend MYSSKIN... Rating : 3.75
Sarath Kumar Yadav
@Pisaasu_Movie if you said Anjaathe is mysskin's best movie then i hope u didn't watched #pisaasu yet.
AN Vijay Karthick Writes
#Pisaasu - Typical Myskin.. Good, watchable
#Pisaasu 1st half - Few scary moments but nice. BGM
#Pisaasu - BGM topnoch.. andha heroine sema alaga irruka avungala poi pei aakitingalae..
Cinema Calendar Writes
#Pisaasu is a no non-sense film where the runtime is roughly 110 minutes and it is totally gripping though out.
Venkatesh Venkat Says
#pisaasu excellent movie, background music awesome , a horror movie with #mysskin style, 3.75/5
Common Man Sathish Writes
#Pisasu - Mysskin breaks the ghost movie templates in Tamil Cinema.. Expect the Unexpected in Pisaasu
#Pisaasu - Climax: Hats off to Mysskin
-#Pisasu will be the first movie without title credits till the first half & an innovative interval break
#Pisasu first half - A ghost movie with typical Mysskin's touch along with few scary moments & lots of laughing scenes (surprisingly).