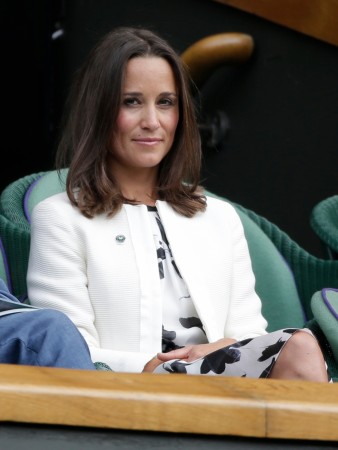 Pippa Middleton's fashion statement was quite visible at the wedding of her elder sister Kate Middleton to Prince William in 2011 and some of the big names from fashion industry might have taken a note of it. Now, it is been reported that she could be the next new face of popular clothing brand Tommy Hilfiger.
The 64-year-old American designer has revealed that he met Pippa Middleton at the Fragrance Foundation Awards Wednesday and that she is a candidate for the brand.
"I was with her sister Pippa last night in London," Tommy Hilfiger told HELLO magazine. "And she's a candidate for Tommy Hilfiger."
Interestingly, the top designer had earlier told Vogue magazine in 2011 that he would love to design for Kate Middleton but it never happened. Now, he is eyeing her younger sister, and it might well happen, as he has already sent dresses to her.
"I sent the preppy casual summer dresses and things like that. I hope she wears them," he said.
It may be mentioned that the 31-year-old author and athlete is not new to fashion industry having recently collaborated with designer Tabitha Webb to come out with a limited collection with an aim to raise fund for the British Heart Foundation for which she has been ambassador for almost two years now.
She is currently doing a course in nutrition in a probable move to get into health journalism, and she may not be able to resist the offer from Tommy Hilfiger.
In the meantime, tennis player Rafael Nadal has signed for the brand and has expressed his excitement to be a part of it.
"We just signed Rafael Nadal," Hilfiger told the magazine. "He just became the headliner for my scent that we are launching this fall."