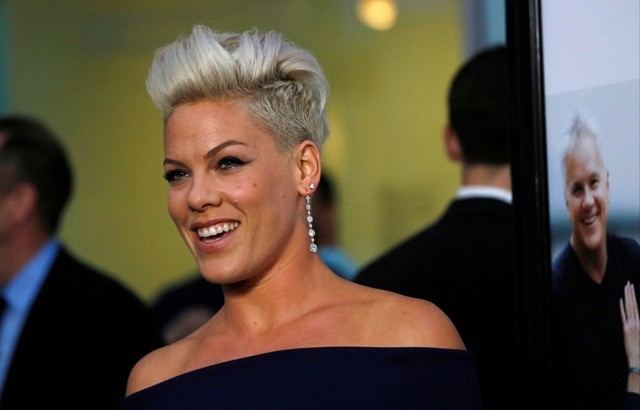 The official list of performers and presenters for the 56th Annual Grammy Awards has been released. Pink, Daft Punk and Imagine Dragons are some of the stars who will be performing at the largest music event of the year.
ICYMI: First performers announced for the 56th #GRAMMYs, including #DaftPunk, @kendricklamar http://t.co/QDy8P8S5Bi pic.twitter.com/X0h36mDvan

— The GRAMMYs (@TheGRAMMYs) December 20, 2013
According to an announcement, Pink and Nate Ruess will reprise their duet "Just Give Me a Reason" and Daft Punk will also put on a show for the audience. While the former has been nominated for the 'Song of the Year', the latter's album "Random Access Memories" has been nominated for 'Album of the Year'.
This will be Daft Punk's first television performance after six long years. They last performed at the 50th Grammy Awards. Talking about the band's return, Ken Ehrlich, Executive Producer of the show told Rolling Stone Magazine:
"We learned that because they had such a good experience with us when they appeared with Kanye in 2008, they were happy to discuss a performance on this year's show. Conversations took place over a period of a couple of months, and finally they agreed to be a part of this year's telecast. Details of the performance are still being worked out, but the idea of having the exclusive television performance by this iconic band is something we're very, very excited about."
The band will probably perform "Get Lucky" with Pharell Williams, which has topped music charts this year.
Nominees 'Imagine Dragons' and 'Kendrick Lamar' will be teaming up for a performance too. A special piece by Merle Haggard (two time Grammy winner), Kris Kristofferson (recipient of Recording Academy Lifetime Achievement Award), Blake Shelton and Willie Nelson (seven-time Grammy winner) has also been scheduled.
LL Cool J, who has been emceeing the show since 2012, will return to host the event that will be held at the Staples Center in Los Angeles, California, Jan 26, 2014.
Check out the complete list of nominees for the 56th Annual Grammy Awards, here.