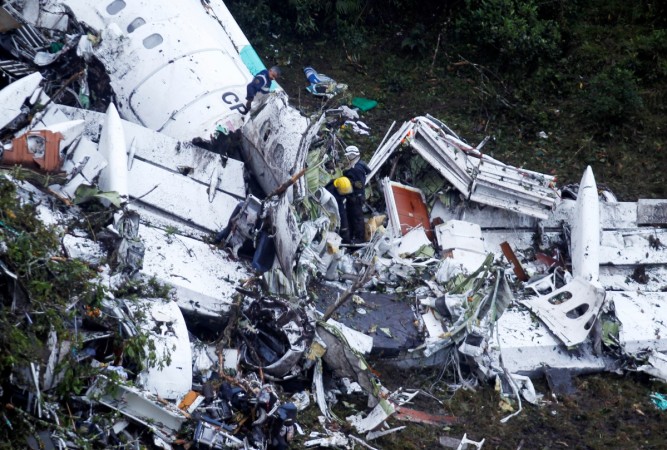 The pilot of the chartered plane carrying Brazilian soccer squad Chapecoense to Colombia had radioed in to the air traffic controllers that the flight was out of fuel and desperately pleaded for permission to land before the plane crashed in the Andes.
The pilot had said that there was an electric failure without fuel in the final moments before crashing. According to flightradar24, the plane went around in circles before it slammed into a mountainside on Monday night.
There were 77 people on board the flight to the Copa Sudamericana finals in Medellin. Only three players, two crew members and one journalist survived the crash.
The recording of the pilot's call to the air traffic controllers was obtained by Colombian media.
In response to the pilot, a female traffic controller's voice can be heard giving instructions as the aircraft lost speed and altitude, only 13 km from Medellin's international airport.
"Fuel emergency, miss," the pilot added, requesting urgent permission to land.
The recording corroborates the account of the co-pilot of an Avianca plane that was flying close to the LAMIA plane, which had reported it was out of fuel.
"Mayday mayday ... Help us get to the runway ... Help, help," Juan Sebastian Upegui described the LAMIA pilot as saying in an audio message also played by local media. "Then it ended ... We all started to cry."
Before the tragic flight went silent at an altitude of 9,000 feet they made a final plea asking for landing codes.
"Vectors, senorita. Landing vectors."
One of the surviving crew members said that the inside of the aircraft went dark before the plane started spiralling out of control. There was no explosion on impact since the flight had run out of fuel.
"Many passengers got up from their seats and started yelling. I put the bag between my legs and went into the fetal position as recommended," another survivor, flight technician Erwin Tumiri, said Colombia's Radio Caracol reported.