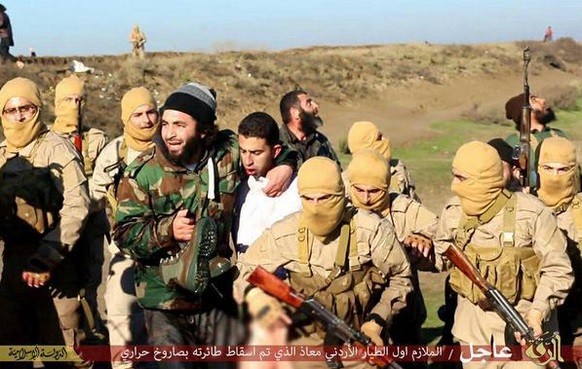 In response to the recently-released Islamic State (ISIS) video, which shows a Jordanian pilot being burnt alive, angry and unyielding King Abdullah of Jordan has threatened the terrorist group of a "relentless war", while vowing to hunt down and kill the insurgents until the country "runs out of fuel and bullets".
The candid and belligerent warning – perhaps the first-of-its-kind from any head of state – comes days after ISIS released what has been touted as a "sickening" and "horrifying" footage of Jordanian Pilot Muath al-Kasasbeh being burnt alive.
"We are waging this war to protect our faith, our values and human principles and our war for their sake will be relentless and will hit them in their own ground," the King said in a security meeting after the release of a video, according to the state television.
Jordanian authorities, on Wednesday, also vowed an "earth-shaking" response for the murder of the pilot, who was used as a bargaining chip to demand the release of Jordanian ISIS female prisoner Sajida al-Rishawi.
"The revenge will be as big as the calamity that has it Jordan," Army spokesman Colonel Mamdouh al Ameri said in a televised statement. Another government spokesperson said that there would be a "strong, earth-shaking and decisive" response.
In the closed-door meeting that took place in Amman, where US representatives were also reportedly present, the King – a former general – angrily pledged to go after the jihadist outfit until his country's military runs out of all its resources, Fox News reports citing the US lawmakers present at the meet.
The strong oath by the King came close on the heels of the country's decision to hang two al-Qaeda terrorists early on Wednesday in Jordan, in response to the video that is widely regarded as being a forerunner to a deadly confrontation with ISIS.
"He said there is going to be retribution like ISIS hasn't seen," the US news channel quoted Rep. Duncan Hunter Jr. R-Calif as saying. The Marine Corps veteran, involved in two Iraq tours and one Afghanistan trip, was also reportedly present when the King made the statements.
"He mentioned 'Unforgiven' and he mentioned Clint Eastwood, and he actually quoted a part of the movie," he said referring to a Hollywood movie that deals with taking revenge.
Meanwhile, the father of the slain pilot has said that the execution of the two terrorist prisoners is not enough, urging the government to do more to take revenge of his son's death.
"I want the state to get revenge for my son's blood through more executions of those people who follow this criminal group that shares nothing with Islam," Safi al-Kasaesbeh told Reuters.
The footage and images released on Tuesday showed a burning man standing in a cage. Kesaesbeh appeared to have been placed inside the cage seemingly located on an open ground. He can be seen wearing the orange jumpsuit that all ISIS hostages are forced to wear. He was apparently drenched in an inflammable liquid before being set on fire.