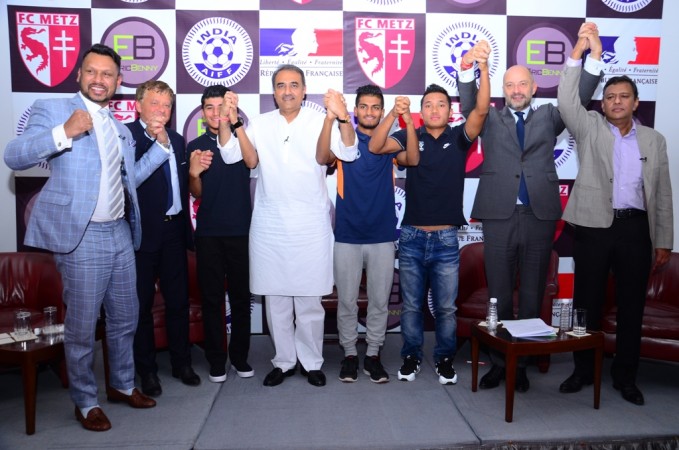 Troubled times are ahead for the All India Football Federation (AIFF) as a Public Interest Litigation (PIL) has been filed against them for their alleged mishandling of funds during their agreement with marketing partners IMG-Reliance, the brain behind the Indian Super League. The matter will now be heard at the Supreme Court on Aug. 5.
Not common men, but two of the veterans of Indian football -- Bhaskar Ganguly, the India football team captain during the 1982 Asian Games and defender Manoranjan Bhattacharya -- have filed the PIL.
"AIFF has grossly mismanaged and arbitrarily administered the sport of football in the country, resulting in violations of the rights of players, domestic clubs and the football watching public in India," it was stated in the plea.
"The IMG-RIL has a direct conflict of interest as they hold all commercial rights to football in India and at the same time own and promote Indian Super League and ignore promotion and popularising the game involving the clubs who are the most important stakeholders and the backbone of any sport in any country.
"AIFF and IMF-RIL have ignored obligations towards the development and promotion of domestic tournaments," it has been mentioned.
What had happened: The AIFF entered into an agreement with the IMG-Reliance in 2010 worth Rs 700 crore over a period of 15 years.
From the closing down of clubs to the issue of money being spent on their high-profile meetings, the PIL has hit the AIFF hard on every aspect -- from their administration to finance.
The PIL stated that the "unprofessional attitude of the AIFF" has led to the disbanding of well-known Indian football clubs like JCT, Mahindra United FC, Chirag United, Pailan Arrows and more recently Pune FC, Bharat FC and Royal Wahingdoh FC.
Discontinuation of revered football tournaments like the Durand Cup and the Rovers Cup by the AIFF has also been brought to light by Ganguly and Bhattacharya in their plea, as is the governing body of Indian football's exorbitant shelling of money to host meetings. "It is to be noted that while AIFF denies basic facilities to the budding footballers of the country they prefer to spend 65 lakhs on its meeting expenses," it has been written.
What happens now: While we await the hearing at the apex court of the country on Aug. 5, the PIL seeks setting up of a committee which will oversee the state of administration of football in the country and its development.