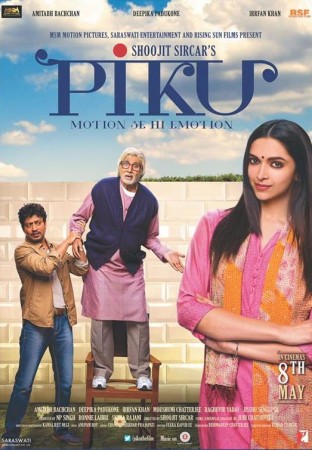 The trailer of Shoojit Sircar's much anticipated film "Piku" starring megastar Amitabh Bachchan, Deepika Padukone and Irrfan Khan has finally been released.
"Piku" explores the heart-warming relationship of a Bengali father and his daughter. Padukone plays the title role of Piku, while Big Big is her cranky father.
But unlike the usual father-daughter bond, the Sarkar directorial is a crazy one where both Piku and her father argue and complain against each other.
The trailer is hilarious, as Big B with his Bengali accent throws tantrums at Piku but at the same time is heart-warming with Padukone's efforts in handling her troubled father.
Caught in the middle of the arguments of the father and her daughter is Khan, who plays Padukone's love interest and often makes fun of the cribbing old father. His dialogues and sense of humour makes one laugh out loud.
Sr.Bachchan excels in his role as a funny old father always worried about his bowel movements.
Going by the two-and-half minute video, it looks like the film will revolve around Padukone's love for her quirky natured father who is suffering from constipation. In fact, the tagline of the film says "Motion Se Hi Emotion".
The film also has veteran actress Moushumi Chatterjee in a pivotal role.
Produced by MSM Motion Pictures in association with Saraswati Entertainment Creations Limited and Rising Sun Films, "Piku" will hit theatres on 8 May, 2015.
Check out the trailer of Amitabh Bachchan and Deepika Padukone starrer "Piku":