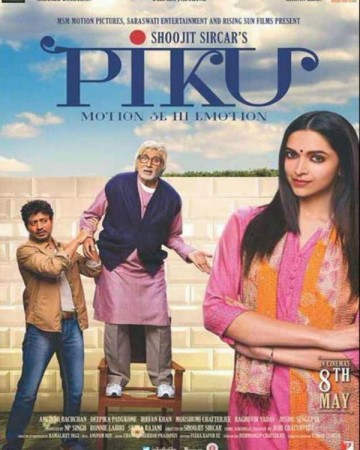 IBTimes India Rating: 4.5
To review a gem like "Piku" would mean going into dilemma over which portions to pick on, which to leave out. It's heart-melting, honest, simple and very everyday.
On the richly layered father-daughter relationship, "Piku" is not 'only' relatable, but also makes you feel like it happens to you everyday. Plus, it's very Bengali and thus, awesome.
The central characters – Bhaskor Banerjee (Amitabh Bachchan) and Piku (Deepika Padukone) – share a difficult equation.
While the senior citizen is perennially stressed about his bowel movements and is insufferably obsessed with illnesses he doesn't have, Piku is a co-owner of an architecture firm she shares with Syed Afroz (Jisshu Sengupta).
On the surface, this looks like a usual arrangement. However, what throws the bonding off balance is the bitter-sweet friction between the two created by varied wants.
Dad doesn't want to be left alone and believes getting married is a 'low IQ' decision considering how women shun their professional lives in service of their husbands. Daughter doesn't appreciate the father shooing suitors away by saying 'she's not a virgin'.
Cut to road trip, and the supremely charming cab service owner Rana Chowdhury (Irrfan Khan), who never lets go of an opportunity to turn his friendship with Piku into a romantic one.
But, because the comedy-drama is as real as it gets, we don't get no running around trees, tossing on the bed thinking of the one true love, and running across airport/ train station premises sans platform tickets to tell what your heart has been piling up (like it's stone age and there are no phones or internet connections at one's disposal) kind of shots.
Rana's inability to fathom the elderly citizen's obsession with all things 'shit' makes him a misfit in the Bengali setting. Yet, he brings comic relief to the plot with his 101 guide to 'how to take a dump the right way'.
The senior actor, with his flawless portrayal of Bhaskor, proves why he might not be a box office star but is still the best when it comes to acting. Deepika is someone who holds on to her character effortlessly. She makes it appear so real that anyone would be ready to look past her decision to sign a blockbuster like "Happy New Year".
Irrfan's Rana grows on you. At first, he might seem like someone throwing himself at Piku, desperately. With time, we see how he's genuinely but weirdly concerned about the dysfunctional duo.
Shoojit Sircar is a class apart. Like his previous films – "Vicky Donor" and "Madras Cafe" – he keeps things simple in this one as well. The narrative is arranged in layers hinting at too many emotions at once. But, since it's projected in the most real way possible, doesn't seem too much to take.
Takeaway: It's about motion, emotion and so much more. "Piku" is an absolute delight and a must-watch.