It was Bollywood superstar Amitabh Bachchan who announced the birth of his grandchild Aaradhya Bachchan to the world a year ago. It's the proud grandfather again who has shared her photos on her first birthday.
Ever since Aaradhya was born to the celebrity couple - Abhishek and Aishwarya Rai Bachchan - on November 16, 2011, speculations were doing the rounds that the Bachchans would sell the rights to take the first photos of Aaradhya to publication houses for a whopping amount like their counterparts in the West but that was not to happen.
Amitabh posted two photos of his grandchild Aaradhya on his facebook page - one with her parents Aabhishek and Aishwarya, and the other one with her dad - to mark the first birthday of his little princess.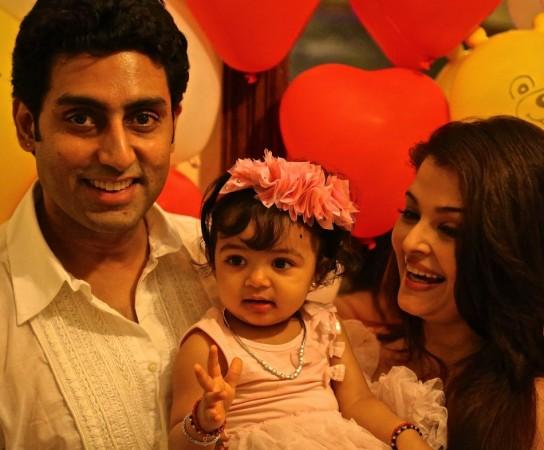 "Aaradhya's 1st birthday !! Just family and the silence peace and quiet after many hectic evenings .. your blessings and love !!" he tweeted.
"Its a year since she was born, Aaradhya, and it just seems like it was the other day ... time has flown past ... and much has happened ... your blessings and love have been most appreciated and thanked for ... may you ever remain with us and her in love and in togetherness .. !!" wrote Amitabh Bachchan on his facebook page.
"Thank you all for your kind and generous wishes for Aaradhya, on her first birthday ... i shall tell her about it and knowing how this generation can keep records, this missive shall also be available to her when she is big enough to read !My love and wishes to all," he wrote.
Photos of Aaradhya taken at various events have made it to the net - she was last caught on camera at the 70th birthday bash of her grandfather Amitabh Bachchan. But this is the first time the Bachchan family has officially shared her photos.
What a way to celebrate first birthday of the youngest Bachchan!