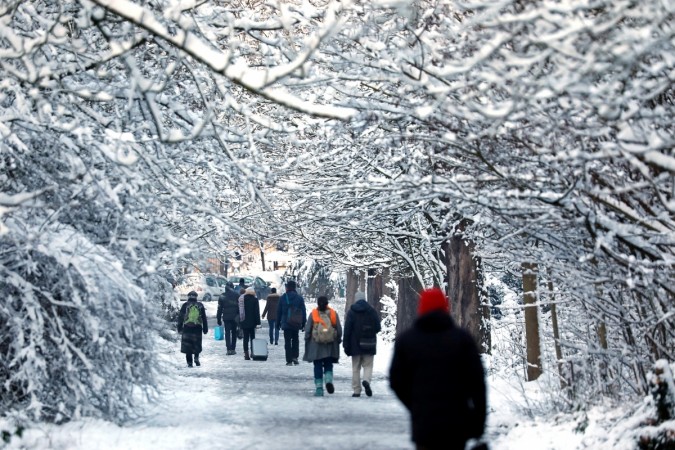 Paris witnessed a heavy snowfall in the early hours on Wednesday (February 7) morning and the citizens woke up to a city that looked straight out of fairy tale Winterland.The last time the Parisians witnessed a similar kind of snowfall was way back in 1987.
The snow-filled areas of central Paris witnessed many tourists enjoying the rare sight. However, many places of interest were closed due to the snowfall that covered most streets and public roads.
Tourist places like Notre-Dame and the Eiffel Tower were closed to the public as the weather conditions brought the city to a standstill.
Despite the weather conditions paralyzing the city, Parisians took to the streets and made the most of it by skiing and snowboarding in public parks.
The temperatures dropped significantly as Paris witnessed almost 12 cm of snowfall and the traffic and public transport was severely hit, according to reports on Complete France.
The authorities had a tough time clearing the path due to the icy roads and a drop in temperature which was recorded as low as -2 degree C. The police have also advised Parisians not to ride motorcycles to avoid skidding on the icy roads.
The unexpected sub-zero temperatures and a snow-covered Paris prompted many photographers to go to the streets and capture the beauty of the city of love.
However, the sight of the winter wonderland was not a fairy tale for commuters who had to spend their night in cars. some slept at the train stations due to the traffic and the incessant snowfall. Air France had also reportedly canceled several dozen flights from the two airports in Paris on Wednesday.
"They're saying the trains are running at a reduced speed. But they're lying, there are no trains," Reuters quoted Jean-Michel Blanchet, a French commuter as saying.
The pristine layer of white that covered the French capital can be seen in the pictures below: