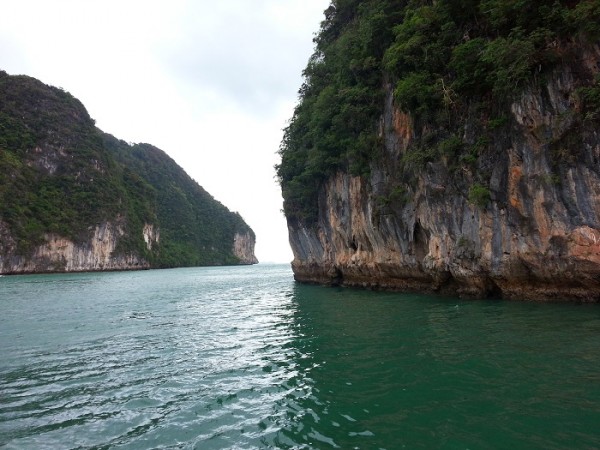 Phuket, at first glance, kind of feels like Goa -- small city, catering to the tourists, with the weather pretty much the same. So, the first thing that you feel when you are sitting in that taxi going to your hotel from the airport, is "Ok, so what is the big deal about this – tourist place, plenty of souvenir shops and a few beaches, might as well be in Goa."
That disillusion, though, gets shattered the moment you take that first step into the beach – Patong, in this case – and suddenly everything is just that little bit different (better, is, of course, subjective).
The sand is softer, the place a lot more clean and the water – oh the water – pristine, blue/green caressing your feet as you walk across, inviting you like a temptress to jump into the water and take a nice long swim.
Opposite the beach is your countless restaurants (yes, Indian cuisine is also available, with plenty of Aussie and Irish locales included), any of which will leave you with that nicely filled stomach and a still reasonably heavy wallet.
Just next to the restaurants are the shops – a paradise for the ones who like to whip out that cash and buy everything on view. You want your Louis Vitton fakes, this is the place to be. Calvin Klein watches look so real that even Calvin Klein himself would have had a tough time differentiating between the real one and the fake.
Spend an evening on the beach and finish it off with some shopping, and you can also make a mental note to come in later during your holiday if you've seen something that you like, and you feel like you need a little more time to decide on before you take that plunge into your wallet.
There are plenty of places to visit in Phuket, and one of the favourite tourist destinations is the Tiger Kingdom. Tame beasts which allow you to play with them and pose as hired cameramen take pictures in all your glory.
Yours truly could not quite allow himself to be a part of the carnival, because as far as I'm, concerned tigers should remain in the wild – it is one of the most, if not the most, majestic creatures in the planet, and I, at least, was not going to be a part of it. The tigers, though, did not seem in anyway harmed or drugged, as some have seemed to suggest; the thing that pained me was seeing them so tame – what is the point of a tiger, if not ferocious and in-your-face, where you quake in your boots and have that bolt of adrenaline go down your spine when you spot them in the wild.
It is a fun experience if you don't have any such issues, and the majority of the crowd there certainly seemed to enjoy themselves, with the options of choosing between four different sets of tigers – big, medium, small and smallest (the most expensive) – only opening up more possibilities for "fun."
When you go for a holiday on the coast, a boat ride is inevitable isn't it – especially in Phuket, which is surrounded by these wonderful offshore islands, which is nature at its absolute best.
I personally try to avoid these boat rides when I'm on a holiday, what with me being born right next to the backwaters of Kerala and all; for me boats and those serene, slow, calming rides that everyone seems to love is just an everyday thing.
You have a few options on which boat ride to take to which island. The Phi Phi Islands are the most popular ones, and rightly so, due to the pristine white beaches and the snorkelling options available.
The Leonardo Di Caprio starrer -- "The Beach" -- was filmed on one of these islands – Maya Bay – and is now a favourite of the tourists.
But, we (my wife and I) decided to take another route – towards Phang Nga Bay and Krabi with the moniker "dinner cruise" particularly catching my better half's eye.
So, off we went on a serene cruise at a little past noon, the exact kind that I try to avoid, with the boat – built to look a little like those famous Kerala house boats, but not quite with all the trappings – moving along at about 20 km per hour and putting me to sleep.
After all, what could be there to see in the sea apart from a few islands and water?
Ah, how wrong I was!
A few minutes into the boat ride – with the weather nice and pleasant – and all of those "man this is boring" feelings went with the wind that was constantly blowing across my face.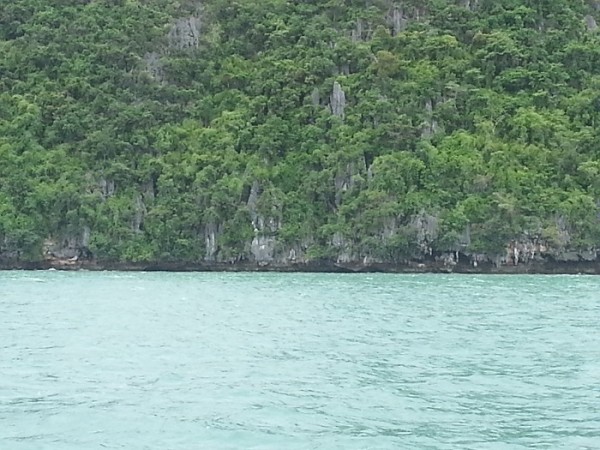 Suddenly the sea went from greenish blue to wonderful green – kinda like that yucky green jelly, and almost as translucent. And when I lifted my head from the mesmerising waters, that jaw of mine dropped as an island fell beside the boat, with sand that was whiter than those shirts in detergent TV ads.
All I wanted to do then was to yell at the captain and ask them to moor the boat alongside that island so we could just sit on that beach and do nothing (my idea of a perfect holiday). But then that was never going to happen was it, and as the boat moved along, I realised this island with whiter than white beach was not a one-off – everywhere I looked, there was one staring back at me, gently calling me towards the shore, and leaving me speechless with my mouth wide open.
That mouth grew only wider when I soon saw a little cove, much like the ones I had read so many times in Enid Blyton stories, and I immediately started wondering if we might find some hidden treasure, like Julian, Dick, George, Anne and Timmy always seems to find.
A canoe ride was promised during this "dinner cruise" and the sceptic that I am, I did not think much of it. But, boy oh boy was I wrong again.
That little 45-minute canoe ride ended up being the best part of my holiday, and one of the best experiences I have had (nature wise), period.
Right alongside the Hong Islands, the canoe man (who would later become the piano man) took us on a charted course, across lagoons, coves and small caves, and that jaw only kept dropping lower and lower. There is nothing quite like watching nature at its most natural surroundings, and this was as wonderful as they come.
Rocks jutting out of nowhere, with sea shell-like things stuck onto it, giving it that razor edge, and the waters – green, calm and ridiculously enchanting.
And soon enough came the lagoon, with two high walls of the island on either side, people looking up in awe at the ridiculously wonderful surrounding, and a haunting melody (in Thai) being sung by my rower behind me – it was a feeling straight out of a novel, and I felt like Indiana Jones on my way to some adventure with only the famous whip missing from the armoury.
The boat ride back from Hong Islands was uneventful, but with that feeling of calm and awe instilled from the canoe ride, it was perfect – just sit back, relax, with a drink (they serve you beer and wine on the boat) in your hand and enjoy the scenery.
Dinner was served soon after (a little early for my liking) and that enchanting trip came to an end as we hopped back into land and reality, albeit after a near perfect ending to a near perfect holiday.
Notes for Phuket
Thailand is visa on arrival – so, you don't have to bother about applying for a visa. Just carry a few passport size photographs, fill a form once you land and you can walk right into paradise.
Carry plenty of cash with you, as not all the ATMs work with your Indian debit cards.
Stay in a hotel that is right next to the beach, because it just makes the trip just that little bit better.
Shop till your feet cave in, and don't forget to bargain. The minimum you need to settle on is 50 percent of the seller's first figure.
Visit the islands, including Phi Phi, but don't forget to take the dinner cruise.
Tiger Kingdom is also worth a visit, even if it's not my cup of tea, and not too expensive.
Try staying at least three nights if you want to take in most of the surroundings.
Going during offseason, July-August, will not burn too big a hole in your pocket, especially in terms of your hotel stay.