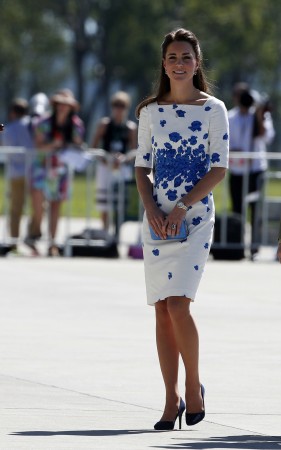 The latest edition of Woman's Day magazine has come under the scanner after it heavily retouched Kate Middleton's photo on the cover. Instead of enhancing the Duchess' looks, the magazine altered her features and turned her into a cartoon-like character.
On the cover photo, the Duchess appears to have a different skin tone and heavy make-up with cherry red lips and matching blush. Her eye-colour appears to be lighter and there is an unusual sparkle in her diamond earrings.
The magazine used the photo from Middleton's recent visit to Kensington Leisure Centre in London and titled it as, "12 Weeks to Go! Kate's Baby Countdown."
The altered photo can be seen in the tweets below:

Australian magazine Womans Day share less photoshopped version of doctored Kate Middleton ... http://t.co/vewWzwHcyZ

— Linda Liong (@lindaliongrn) January 27, 2015
Kate Middleton Is Horribly Photoshopped on Cover of Australian Magazine -- See the Hilarious Botc... https://t.co/ymE7KvBWSL — mnzaman (@mnooruzzaman62) January 27, 2015
"They've overworked the image. They've tried to make it pop, make her sparkle. But it's given her a really hard look; it does not look normal," said Sydney Morning Herald Photo Editor Daniel Adams.
Meanwhile, the magazine took to its official Facebook page and uploaded a natural looking version of the cover as damage control. However, the magazine is yet to issue an official statement in this regard.
Interestingly, this is not the first time Middleton's photo has been heavily photoshopped. In 2012, Marie Claire South Africa super-imposed the Duchess' face and hands on the body of a model. They reportedly did this to pay a tribute to Prince George's mother.
"We were so inspired by her fairy tale wedding and her life as a modern-day princess, which is why we elected Kate Middleton as our cover star for the August issue. The cover is actually a hyper-real illustration of Kate, meant to be a fan art tribute to fashion's new royal icon," said the editor of the magazine, according to Yahoo.
Middleton is currently pregnant with her second child and is in her third trimester. There is much buzz that she may welcome a royal princess this time; however, nothing has been confirmed. The betting on the royal baby name has already begun and the most popular name amongst girls is Charlotte whereas amongst boys is James.