1

of 3 Vijay Rupani on Tuesday took oath as Chief Minister of Gujarat for a second stint along with his deputy Nitin Patel, eight cabinet Ministers and 10 Ministers of State. The new council of ministers was sworn in at a grand ceremony here at the new secretariat helipad ground in the presence of Prime Minister Narendra Modi, Bharatiya Janata Party (BJP) President Amit Shah, Union Ministers Rajnath Singh, Nitin Gadkari, Ram Vilas Paswan, Chief Ministers of the BJP ruled states and Bihar Chief Minister Nitish Kumar. It was also a sea of saffron with a score of spiritual leaders from whom Modi took blessings before the ceremony started.
2

of 3
The Cabinet Ministers who took oath were Bhupendrasinh Chudasama, R.C. Faldu, Kaushik Patel, Saurabh Patel, Vestabhai Vasava, Vithalbhai Radadiya, Dilipkumar Thakor and Ishwarbhai Parmar. The Ministers of State, who were administered the oath of office and secrecy by Governor O.P. Kohli, were Pradipsinh Jadeja, Parthabhai Patel, Jaydrathsinh Parmar, Nanubhai Patkar, Ramanlal Nanubhai Patkar, Parsottambhai Solanki, Ishwarsinh Patel, Gopalbhai Ahir, Kishore Khanani, Bachubhai Maganbhai Khabad and Vibhavari Dave. After the oath ceremony, Modi took to Twitter assuring the people of Gujarat that the BJP government will leave no stone unturned in further developing the state, which the party has ruled since 1995.
3

of 3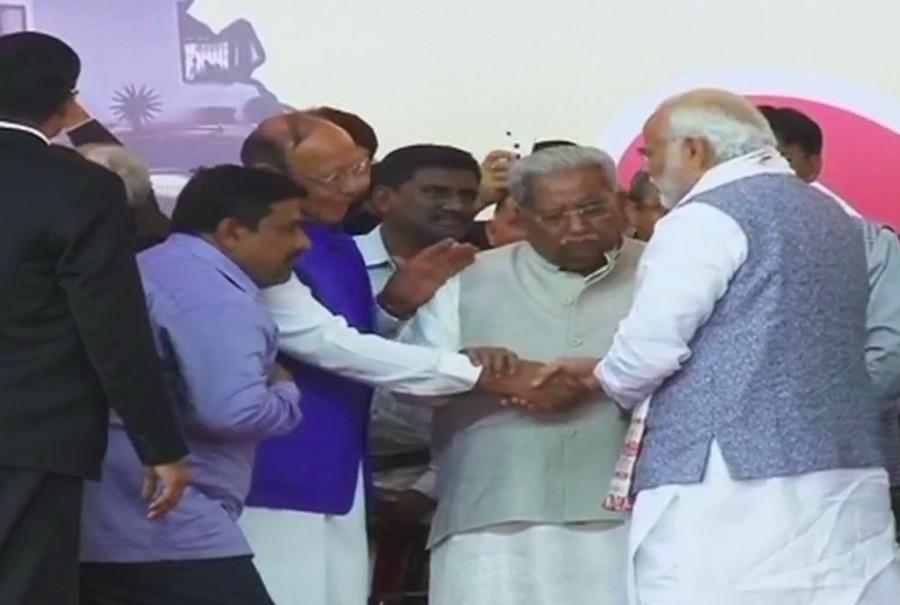 Modi, who was Gujarat's Chief Minister between 2001 and 2014, went nostalgic and shared pictures of the ceremonies when he took oath in the past.