1

of 4
Sidelined AIADMK leader T.T.V.Dinakaran on Sunday took an early lead in the by-election for the Radhakrishnan Nagar (R.K.Nagar) constituency that fell vacant after the death of former Tamil Nadu Chief Minister J. Jayalalithaa. Meanwhile, supporters of both AIADMK and Dinakaran clashed inside a hall in the Queen Mary's College here where the vote count of the by-election that took place on December 21 was ongoing.
2

of 4 According to reports, the AIADMK agents inside the hall started an argument with Dinakaran's supporters following the news of his early lead. Dinakaran is contesting the by-poll as an Independent candidate.
3

of 4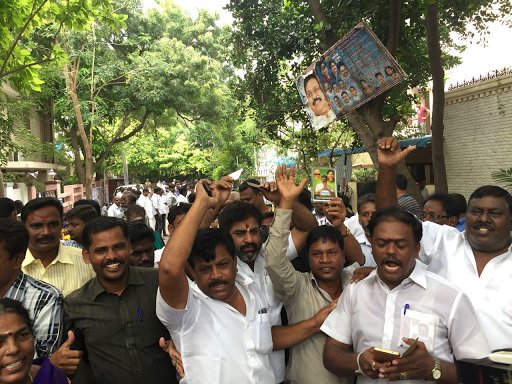 He was followed by AIADMK's E.Madhusudhanan and DMK's N.Marudhu Ganesh. At the end of the second round of vote counting, Dinakaran has got 10,421 votes, Madhusudhanan 4,521 and Ganesh 2,383.
4

of 4
The by-poll was necessitated following the death of AIADMK supremo Jayalalithaa on December 5, 2016, who represented the seat.