1

of 7 The trailer for Naseeruddin Shah's next film, Hope Aur Hum, was launched last evening at an event in Mumbai. The cast, which includes Naseeruddin Shah, Sonali Kulkarni, Naveen Kasturia, Kabir Sajid and Virti Vighani, were present along with the writer director, Sudip Bandyopadhyay and the producer, Samira Bandyopadhyay. The story is a reminiscent tale of a family in Mumbai whose lives are explored through an endearing cinematic journey. The plot revolves around the Srivastava family whose lives are affected by the senior most member of the family, Nagesh (Naseeruddin Shah) whose obsession with his traditional copying machine, called Mr. Soennecken, starts to take a toll on the relationship of the entire family. It's a simple story of human emotions explored through the intertwined lives of each family member. With the family revolting against Nagesh's old ways, the film tells the tale of the transition between the old and the new, explored through the ideas and idles of three different generations.
2

of 7 Naseeruddin Shah said, "Hope Aur Hum is a beautiful film and it was delightful working with these two talented children. It's easier to work with children than adults as the children don't have any baggage. It was a wonderful experience working with them. We hope you like the film." Sonali Kulkarni, who plays the protagonist, Anu's mother, said, " I feel it is very important to be a part of a good story. It was a pleasure to be a part of Hope Aur Hum and when we watched the film together, we had a lot of fun because when you are in the process of making a film, we know the story. But we don't know how it would look on screen. The end result is what makes it all the more special. " Sudip Bandyopadhyay, who is making his directorial debut with the film, said, " I am hoping that you guys like the film. At present, that's the ultimate hope. Our film is a simple film, all about family. A simple story with a simple problem and a simple journey of how you get your hope."
3

of 7
Virti Vaghani at Hope Aur Hum trailer launch.
4

of 7
Sonali Kulkarni at Hope Aur Hum trailer launch.
5

of 7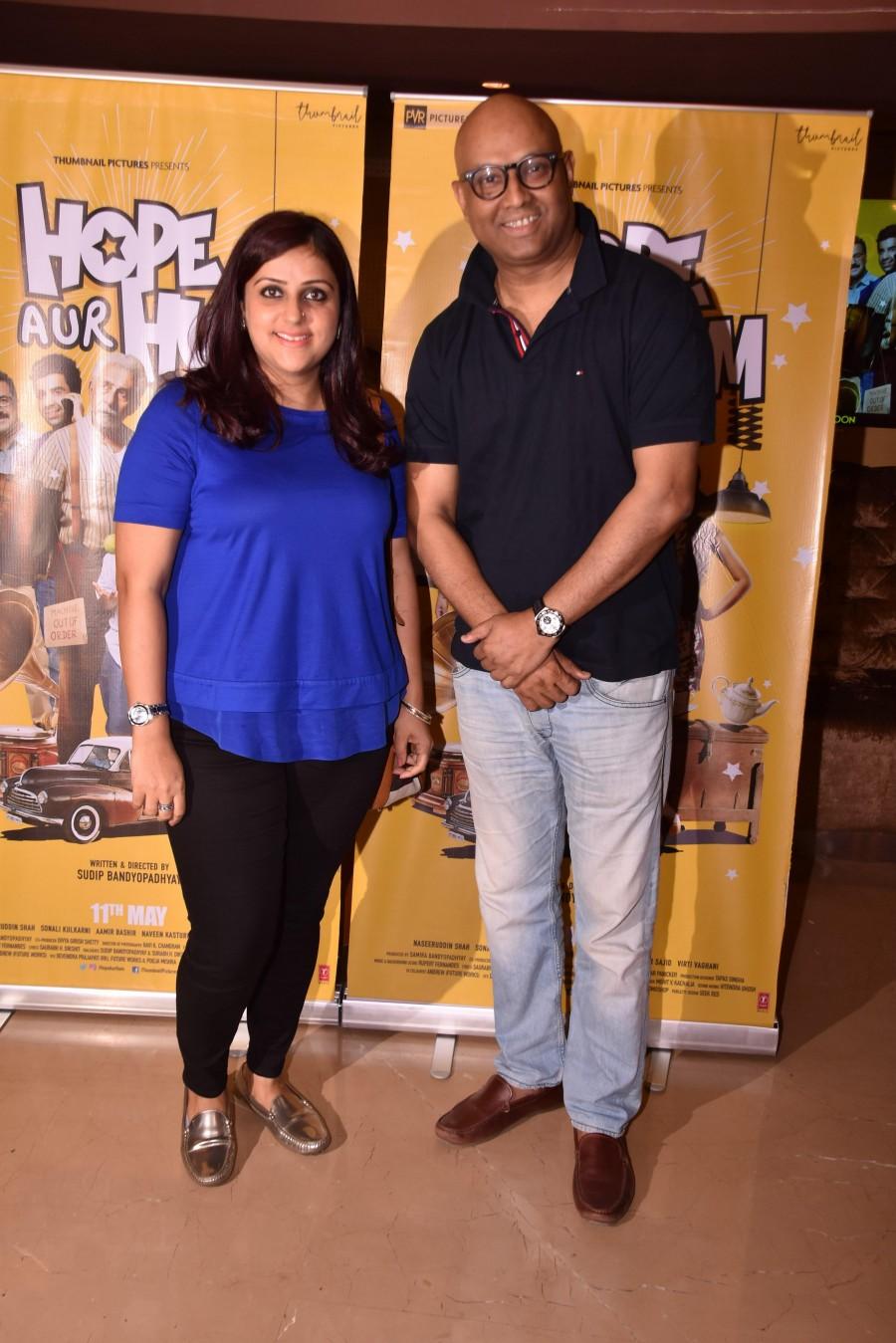 Producer Samira Bandyopadhyay and Director Sudip Bandyopadhyay at Hope Aur Hum trailer launch.
6

of 7
Naveen Kasturia at Hope Aur Hum trailer launch.
7

of 7
Kabir Sajid at Hope Aur Hum trailer launch.