1

of 4 Trekkers caught up in a forest fire at Kurangani Hills in Theni district in Tamil Nadu are being rescued and brought to the plains, said the District Collector on Monday. A commando team from Indian Air Force (IAF) has joined the search and rescue operations.
2

of 4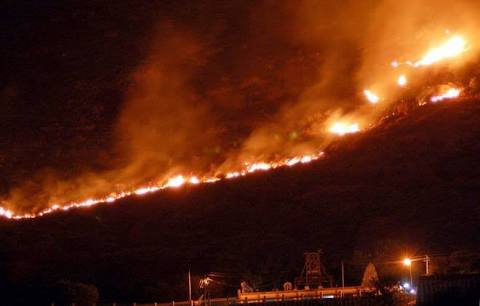 The IAF commando team flew in from Sulur air base near Coimbatore on Sunday late night and climbed up the hills. Defence Minister Nirmala Sitharaman on Sunday said the commandos will be deployed in rescue mission. They will carry medicines and provide medical assistance.
3

of 4
The trekking group consisted of eight men, 25 women and three children who had camped at a place up in the hills on Saturday night and they decided to return on Sunday.
Credit: Twitter/OfficeOfOPS
4

of 4
However, Tamil Nadu Forest Department official said that trekking organisers had not obtained any permission.
Credit: Twitter/OfficeOfOPS