1

of 3 English was one of Taapsee's favourite subject so as her Engish teacher. Last week Taapsee visited Delhi in support of her same English teacher who has now turned as the Principal of Bal Bharti Public School, Dwarka Delhi. Taapsee when received the news that her favourite English subject teacher has been promoted as the Principal of the school she couldn't resist and reach out to her teacher to congratulate and support her teacher in Delhi.
2

of 3 Taapsee has always been rooted where she comes from and never misses out the opportunity to be associated with such feats and lend her support for such events and causes. Bal Bharti Public in return organized a special event for Taapsee where students of the school put across some amazing performances and show for her. It was a proud moment for all the people who were associated with this celebration including Taapsee.
3

of 3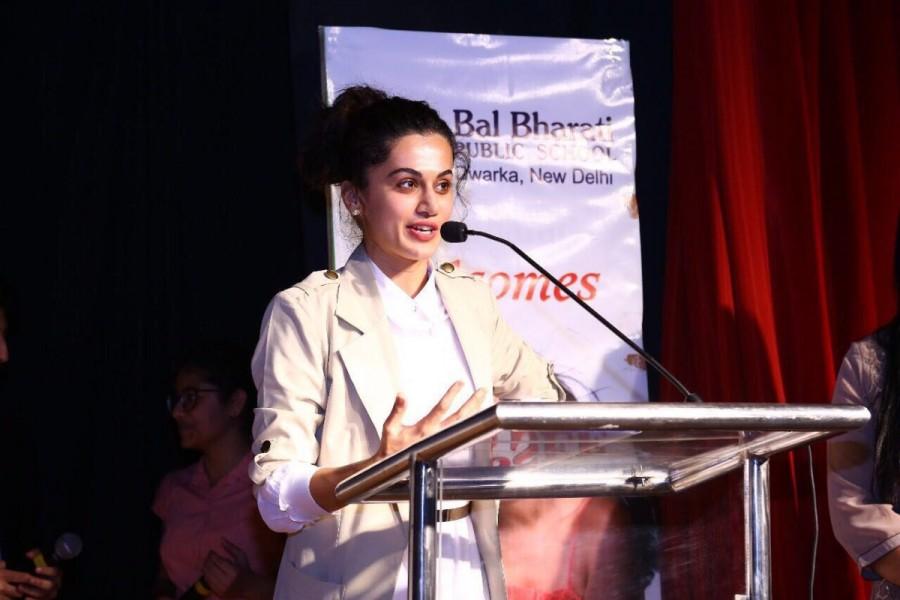 In her address, Taapsee inspired the students to engage themselves in every activity in school and use every opportunity to refine their acumen and talents and most importantly to never give up. She struck a great cord with the audience when she narrated her journey of having to strike a balance between managing excellence in academics on one hand and grabbing hold of every opportunity to participate in co-curricular activities on the other, a feat that ended with her being elected the head girl of the school.