1

of 3 The air quality in the capital deteriorated to an alarming level on a hazy Sunday, forcing Sri Lankan cricketers to cover their faces with anti-pollution masks in a Test match at Delhi's Feroz Shah Kotla stadium. Amid hazy conditions, the second session of the third and final Test match between India and Sri Lanka was halted for few minutes.
Credit: IANS
2

of 3 On Sunday, Delhi-NCR inhaled toxins as at least seven out of 22 monitoring stations registered a "severe plus or emergency" level of air quality. During the Sunday match, six visiting Sri Lanka players wore masks while fielding after the lunch session at the Feroz Shah Kotla Stadium. Umpires discussed the issue with the players and the match was halted for about 15 minutes.
Credit: IANS
3

of 3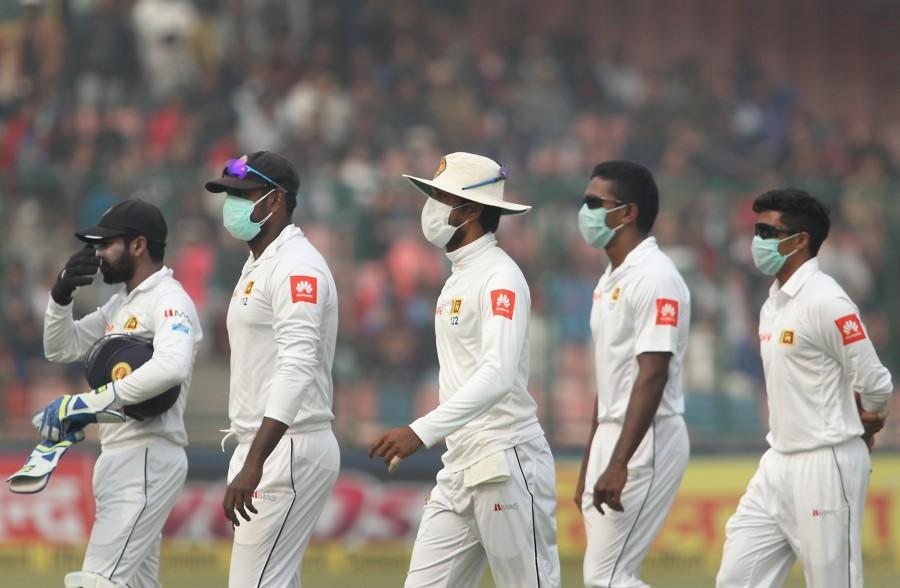 At ITO, about two km from the cricket stadium, the air quality was "very-poor" with the major pollutant PM2.5 or particles with diameter less than 2.5 micrometers, was recorded 212 units -- over eight times the safe limit. Meanwhile, Mathura Road in south Delhi recorded PM2.5 at 444 units -- over 17 times the safe limit considered "emergency or severe-plus".
Credit: IANS