1

of 5 Madraspada is small village near Film City in Goregaon East with a population of 3000 people, mostly poor labourers. Salman Khan, powered by "I Love Mumbai" Foundation and Sach Ishan, took up the initiative of providing 20 toilets with water connection at the location along with the BMC. Now, a 1500 litres storage tank, and a borewell renovated with new compressor has been installed with an approximately 700 feet running pipeline.
Credit: Varinder chawla
2

of 5 "Each of us citizens of Mumbai should strive to make it defecation-free. At I Love Mumbai Foundation, we strive hard to keep our city beautiful. As responsible citizens, we would team up again and again and give our best on whatever we can to our city that has given us everything. Special Thanks to Aaditya Thackeray ji, Salman Khan ji and Ajoy Mehta ji," says Rahul Kanal, Chairman, I Love Mumbai Foundation.
Credit: Varinder chawla
3

of 5
"It's great but this just the beginning. There are more than 3000 households with 6 to 8 people in each house. There just about 36 toilets between them. So if they have space in their houses the BMC is willing to get the relevant permissions to construct toilets fot them in their houses as well," feels Salman Khan.
Credit: Varinder chawla
4

of 5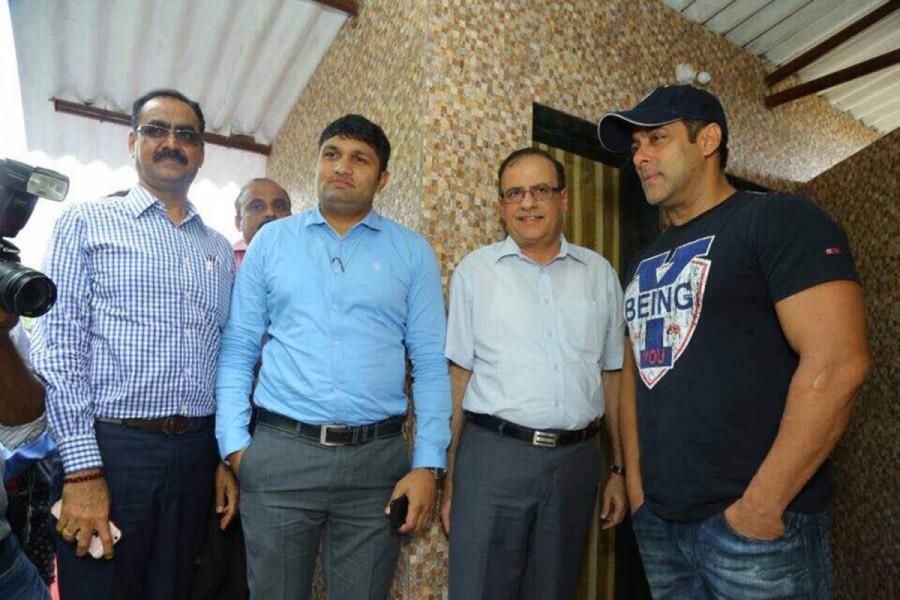 Avers Ajoy H Mehta, BMC Commissioner,"The norms in Mumbai are that every 500 metres where people reside, there should be a toilet. The corporation is making every attempt to do that. However we are also enlisting the help of people and it is very heatening to see that Salman has come forward to tell people to use toilets.
Credit: Varinder chawla
5

of 5
The BMC can only contruct them but it is people like him whose words are followed by the masses. Not only has Salman asked people to use toilets but he has paid for them too. I would request people to come forward and help us build more toilets and motivate others to use them as well."
Credit: Varinder chawla