1

of 5 Pro Kabaddi 2018: Patna Pirates beat Bengal Warriors by 29-27
Patna Pirates finally snapped their losing streak at home as they defeated Bengal Warriors 29-27 in a Pro Kabaddi League match here on Thursday. The low-scoring match saw both teams struggling to secure raid points and employed a defensive strategy. Jaideep made it a great show by getting five crucial tackle points on Bengal's raiders. Ran Singh was given the mantle of Maninder Singh which he did a great job at with seven raid points in his 10 raids. Deepak Narwal did some damage in the end to take Patna Pirates to the victory with seven raid points. Jaideep is now the best defender in Season VI and the holder of Orange Sleeve.
Credit: IANS
2

of 5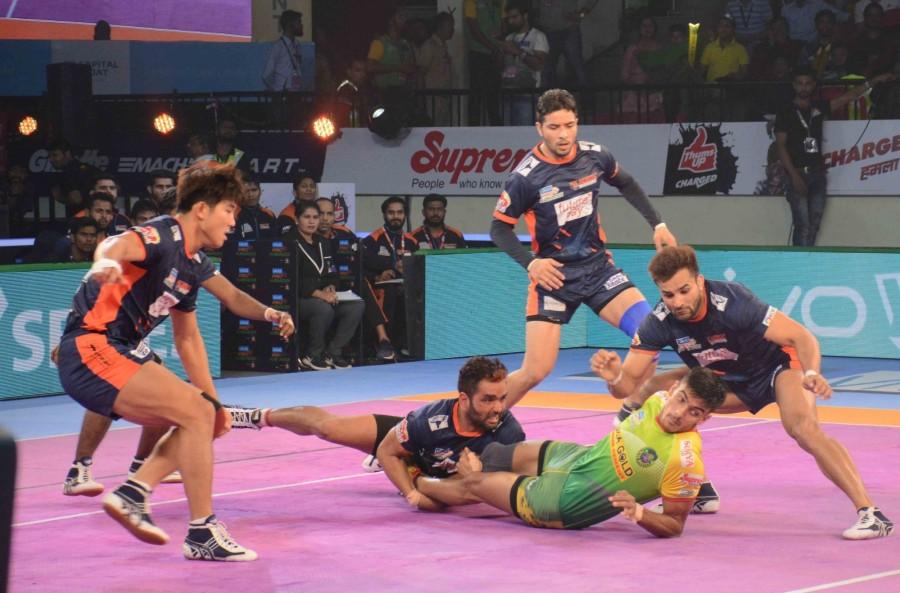 Pro Kabaddi 2018: Patna Pirates beat Bengal Warriors by 29-27
Patna Pirates were starting the match without their star raider Pardeep Narwal as he was tending his wrist injury while Bengal Warriors were starting without Maninder Singh. The absence of Pardeep Narwal looked prominent for Patna Pirates as they started to trail by 4 points by the third minute. It looked like another dismal start to the game by Patna but was overturned by Tushar Patil who came in as a substitute in the fifth minute for a Do-Or-Die raid and Amit Kumar to start the tally for Patna. They equalised by the eighth minute. Bengal lost Mahesh Goud and Jang Kun Lee to Patna's defense and thus a new face came up as the hero as Ran Singh took the raiding in his hands. He took two bonus points from under the nose of Patna's defense before he got out to a strong thigh hold by Vijay in the 12 th minute to concede an All Out for Bengal Warriors and make it 9-7.
Credit: IANS
3

of 5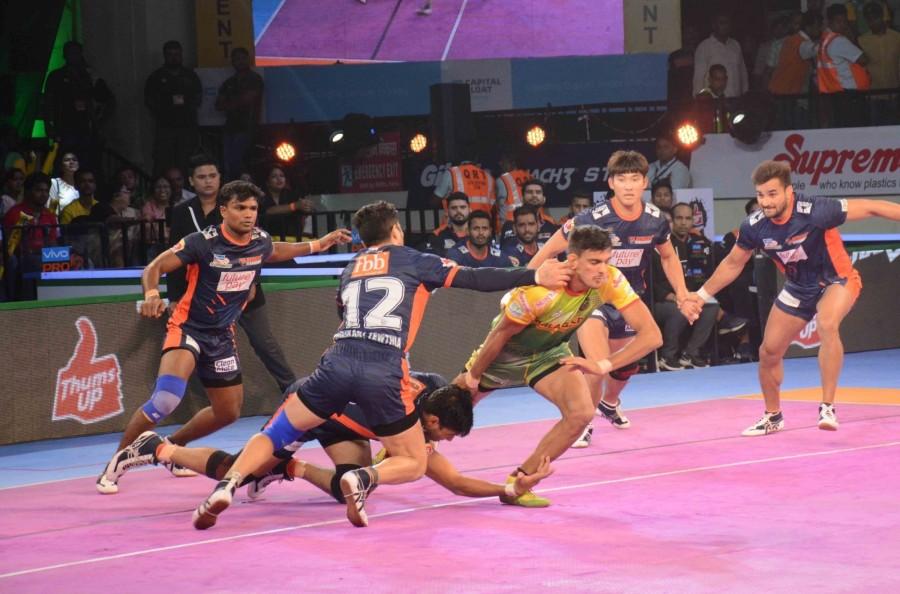 Pro Kabaddi 2018: Patna Pirates beat Bengal Warriors by 29-27
The half ended with Patna Pirates leading Bengal Warriors by 15-12. Both teams continued to work on Do-Or-Die raids as they made empty raids after empty raids. Bengal Warriors reduce the gap to 1 point by the 25 th minute as Jang Kun Lee did his back kick to make it 16-15. Patna Pirates increased it back to 4 points by the 27 th minute as Manjeet got Mahesh Goud with an ankle hold while Jaideep came with a dash from behind Goud's'back to make it 19-15. The 32nd minute saw Deepak Narwal be saved by the line officials who saw Shrikant Tewthia step out of mat while also being the main defender who stopped Deepak from crossing the midline in his 32 nd minute raid.
Credit: IANS
4

of 5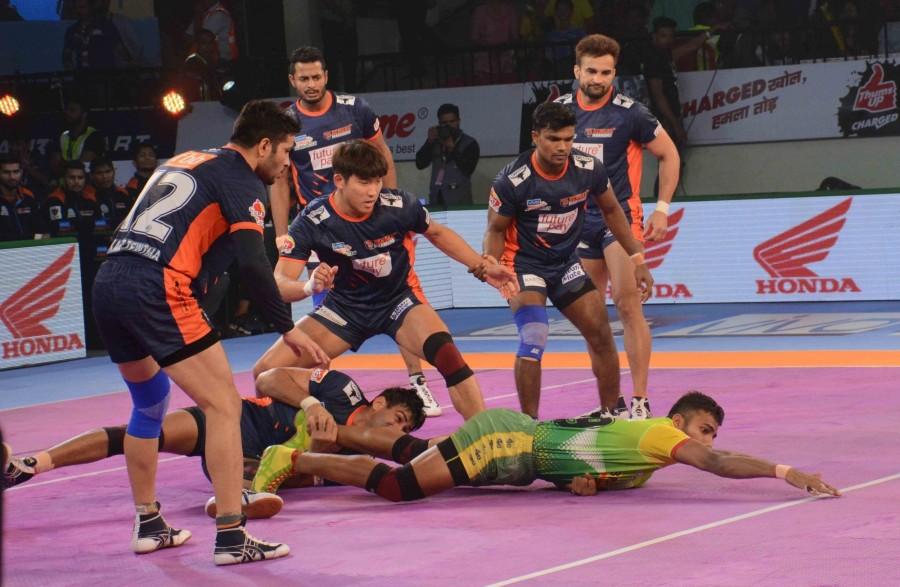 Pro Kabaddi 2018: Patna Pirates beat Bengal Warriors by 29-27
Ran Singh continued to make great works with his raids which could be seen in his 36 th minute raid where he would have got six players out if his dangling foot would have crossed the midline after being stopped by Jaideep. Baldev Singh caught a leap frog attempt by Tushar Patil in the 37 th minute to creep back towards equalizing the score line which they achieved by the 38 th minute when Vikas Jaglan got himself out by going out of mat.
Credit: IANS
5

of 5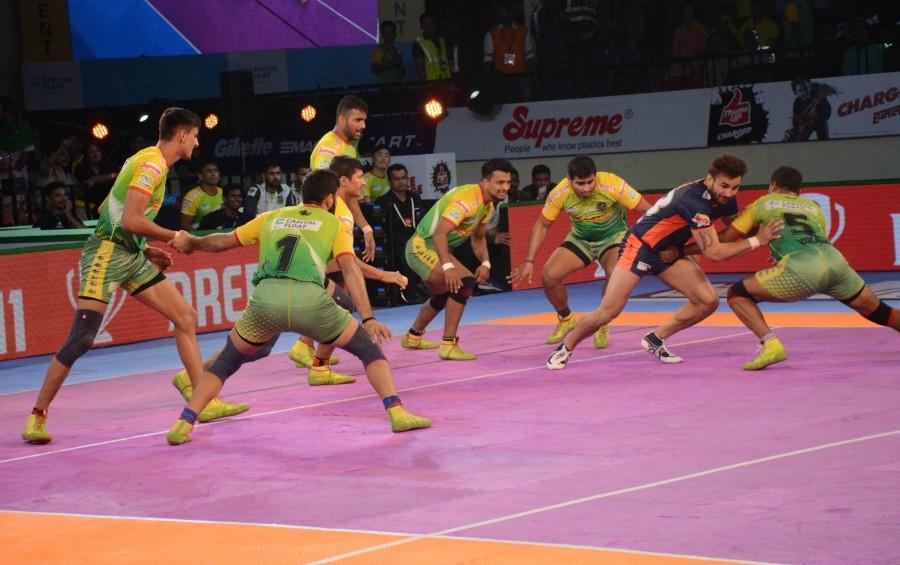 Pro Kabaddi 2018: Patna Pirates beat Bengal Warriors by 29-27
The 39th minute saw the substitute Manish make a great ankle hold to make it 27-25 but this raid also saw Jang Kun Lee nurse a shoulder injury. This cracker of a match ended with Patna Pirates finishing their home leg with a win by 29-27 against Bengal Warriors.
Credit: IANS