1

of 5 Prime Minister Narendra Modi inaugurated the ambitious 138 metre inter-state Sardar Sarovar Dam project on Narmada river on his 67th birthday on Sunday, linking it with his "mission" to create a new India and roared: "I will live for your dreams, I will die for your dreams." The Prime Minister, who was expected to reach the dam site at Kevadiya Colony around 9.15 a.m. from Gandhinagar after receiving blessings from his octogenarian mother Heeraba, had to take a de tour due to bad weather. He landed in Dabhoi and travelled to Kevadiya Colony by car, reaching a little over an hour later.
Credit: IANS
2

of 5 Addressing the valedictory of a Narmada Mahotsav organised by the ruling BJP through 85 chariots that went around the state during the last 10 days before reaching Dabhoi, an hour's drive from the dam site, Modi said: "Today is the culmination of a dream that Sardar Patel saw to end the water crisis of the states in western India much before I and many of us were born. "There were just two mahapurush (great statesman), Sardar Patel and Babasaheb Ambedkar, in India. If they had lived even a few more years, the western states would already have had water and India would have been on the path to progress much earlier. But it was our misfortune that we had to lose them," he said speaking in Hindi to a large, attentive crowd.
Credit: IANS
3

of 5
He said governments formulate and implement schemes, some of them face problems too, but "Maa Narmada is the only one which encountered the maximum hurdles. At one time, the entire world had ganged up against the scheme, the World Bank decided and stopped the loan to the ambitious project on the pretext of environment but the people of Gujarat stood firm. "They were committed to complete the dam even if the Word Bank stopped giving money. Even temples of this state organised donations for this dam," Modi said, adding that the water of Narmada was not simple water but "it is paaras" (a touchstone that converts iron to gold).
Credit: IANS
4

of 5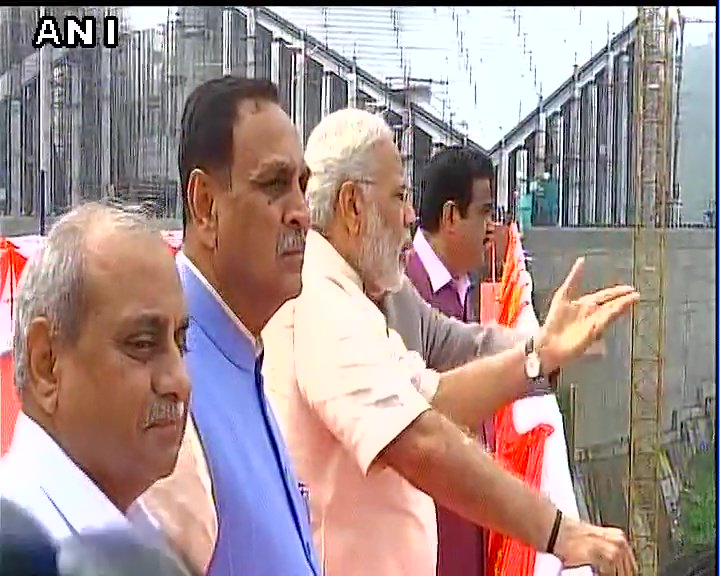 This is expected to benefit the participating states Gujarat, Rajasthan, Madhya Pradesh and Maharashtra. Other than water, the hydro power project at Narmada dam produces 1,450 MW of power too. Earlier, on reaching Kevadiya, Modi performed religious rituals and dedicated the completed Sardar Sarovar Dam project, whose foundation stone was laid on April 5, 1961, by India's first Prime Minister Jawaharlal Nehru. The project has since undergone several upheavals before seeing light of the day 56 years later.
Credit: Twitter.com/ANI
5

of 5
According to the Gujarat government, drinking water would be supplied to 8,221 villages, 159 towns and eight cities across the state through the dam. A total of 17.92 lakh hectares of land across 3,125 villages would be irrigated with Narmada dam waters, with flood control benefits in 30,000 hectares. Overall, 10 lakh farmers would get irrigation benefits and 4 crore people would benefit from drinking water supply.
Credit: Twitter.com/ANI