1

of 5 Prime Minister Narendra Modi addresses the Indian Diaspora at a community event in Indonesia. Showcasing India's achievements over the last few years, Prime Minister Narendra Modi on Wednesday addressed the Indian diaspora in Jakarta in Indonesia and hailed the historic relations between the two countries. Hailing how the Indian diaspora, while being proud citizens of Indonesia, remained connected to their Indian roots, Modi said they should take pride in the way India had progressed in the recent past. He said that India in the last four years had positively contributed to the global economy and had emerged as one of the most open economies in the world. "In FDI Confidence Index, India is now one of the top two emerging markets... Today, a record number of foreign investments are coming to India," Modi said. "From around 300 billion dollars, India's foreign reserves have now crossed 400 billion dollars. In World Economic Forum's Global Competitive Index, India's ranking has improved from 71 to 40. India's Ease of Doing Business ranking has also seen improvement from 142 to 100," he added.
Credit: Twitter/PIB_India
2

of 5 The Prime Minister said that India had jumped 19 places in the Logistics Performance Index and 21 places in the Global Innovation Index. "In the last 14 years, it is for the first time that Moody's have increased India's credit rating," he said. Modi added that his government was working at a much faster pace compared to the previous governments and it was its topmost priority to provide a "corruption-free, citizen-centric and development-friendly ecosystem" to the country. The Prime Minister said that India and Indonesia shared a historic relationship and just like India, Indonesia had strong foundations of democracy. "India and Indonesia are symbols of social and cultural diversity and harmony. There is a special link between their cultures. "Both countries are proud of their democratic ethos and their diversity. In 2014, people of India voted for a government headed by a person belonging to a poor background. Similarly, the people of Indonesia elected President Joko Widodo whose background is also humble," he said.
Credit: Twitter/PIB_India
3

of 5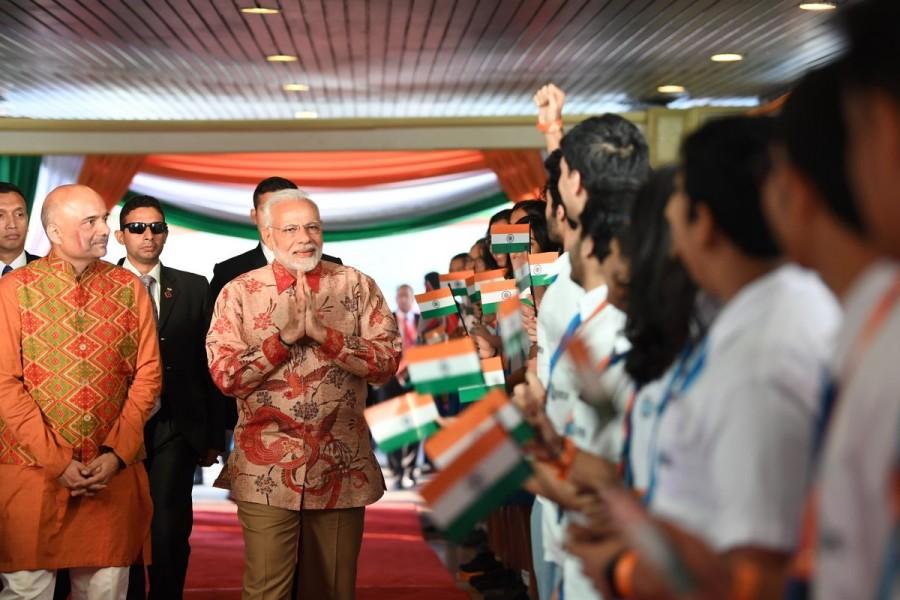 Modi urged the diaspora to become ambassadors of India and also keep mentioning in their conversations that India is the nearest neighbour to Indonesia and vice versa. "In the whole world, Indian medicine and ayurveda are gaining popularity and there is a huge increase in attraction towards holistic healthcare. For you also, there is an opportunity to become ambassadors of Indian traditional medical care," he told the gathering. Modi said ever since both the countries became independent, they had been supporting each other in global and regional issues and that their relationship had reached new heights in the last four years in economic, cultural, strategic and political spheres.
Credit: Twitter/PIB_India
4

of 5
In January, the premiers of 10 Asean nations, including Indonesia, attended the Republic Day celebrations in New Delhi, Modi said, adding it was no coincidence that the Indonesian President at that time was the chief guest in India's very first Republic Day in 1950.
Credit: Twitter/PIB_India
5

of 5
He said that vibrant people-to-people relations boost bilateral ties between India and Indonesia.
Credit: Twitter/PIB_India