1

of 3
Sweet exchange at Attari-Wagah border on Pak I-Day
On the occasion of Pakistan's 71st Independence Day, India and Pakistan border guards exchanged sweets at Attari-Wagah border. As Pakistan celebrates its freedom from the British colonial rule in 1947, President Mamnoon Hussain and Caretaker Prime Minister Justice (retd) Nasir-ul-Mulk addressed the people and asked them to take the country forward. "The dream of taking the country to the zenith would not come true unless we singularly concentrate on our national goals and objectives," Geo News President Mamnoon as saying.
Credit: (Photo by NARINDER NANU/AFP/Getty Images)
2

of 3
Pakistan Rangers and BSF to exchange sweets at Wagah border
The President expressed his elation over the country's new generation, which he said, was brimming with patriotism and passion for progress and development. He also said that the teachings of Quaid-e-Azam and Allama Iqbal in order to reduce the problems being faced by the country.
Credit: (Photo by NARINDER NANU/AFP/Getty Images)
3

of 3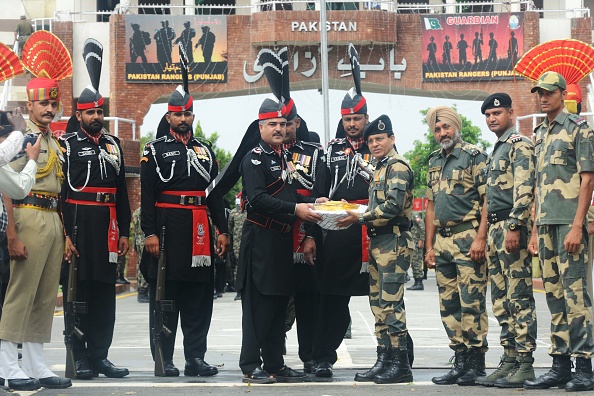 India's Border Security Force and Pakistan Rangers share sweets at Attari-Wagah border
Pakistani Wing Commander Bilal (L) presents sweets to Indian Border Security Force (BSF) Commandant Sudeep (R) during a ceremony to celebrate Pakistan's Independence Day at the India-Pakistan Wagah border post on August 14, 2018.
Credit: (Photo by NARINDER NANU/AFP/Getty Images)