1

of 5
Oscar winner Nicole Kidman won her first ever Emmy Award as Outstanding Actress in a Limited Series, for her role in "Big Little Lies". She called domestic abuse a "complicated, insidious disease". Kidman played Celeste, a wife and mother who becomes the victim of domestic violence at the hands of her husband Perry, essayed by Alexander Skarsgard, who also won an Emmy here on September 17.
Credit: (Photo by David Livingston/Getty Images)
2

of 5
Looking resplendent and radiant in a red gown, Kidman thanked her husband Keith Urban and her daughters for supporting her career, and said she hoped the Emmy win can be a lesson for others in a way. "Sometimes, when you're acting you get a chance to bring a bigger message... We shone a light on domestic abuse," she said. "It is a complicated, insidious disease. It exists far more than we allow ourselves to know. It is filled with shame and secrecy. And by you acknowledging me with this award, it shines a light on it even more," she said in gratitude to the Television Academy.
Credit: (Photo by Jason LaVeris/FilmMagic)
3

of 5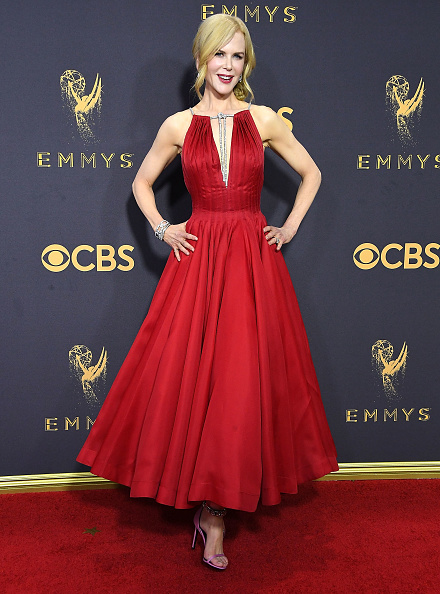 Kidman and Reese Witherspoon, who served as executive producers on the series, were pitted against each other in the Outstanding Actress in a Limited Series.
Credit: (Photo by Steve Granitz/WireImage)
4

of 5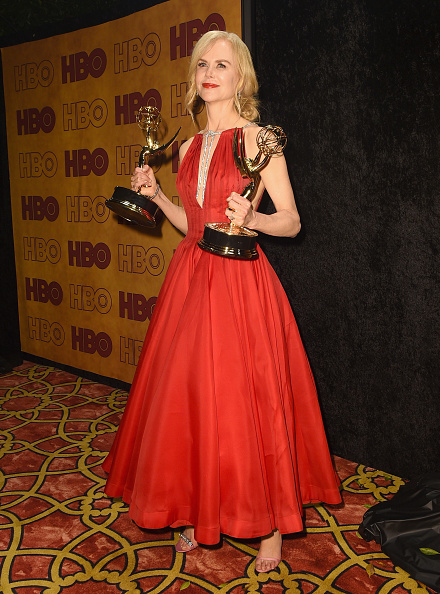 Later, when the team took the stage to accept the Outstanding Limited Series honour, Witherspoon said: "It has been an incredible year for women, (to) bring women to the front of the stories."
Credit: (Photo by FilmMagic/FilmMagic)
5

of 5
The actress also thanked Kidman, Witherspoon and Shailene Woodley, by saying: "I share this with my tribe of four ladies. I feel very proud to be a part of reflecting fierce women and mothers."
Credit: (Photo by Matt Winkelmeyer/Getty Images)