1

of 2 Nepal Prime Minister K.P. Oli arrived here on Friday on a three-day visit -- his first foreign trip after he returned to power in February for a second time. Oli and his wife Radika Shakya were received by Union Home Minister Rajnath Singh at the airport here. Oli's first foreign visit to India after taking charge as Nepal Prime Minister keeps up with the tradition of India-Nepal ties that have of late been strained. He is scheduled to have talks with Prime Minister Narendra Modi and also hold delegation-level talks on Saturday.
Credit: Twitter/MEAIndia
2

of 2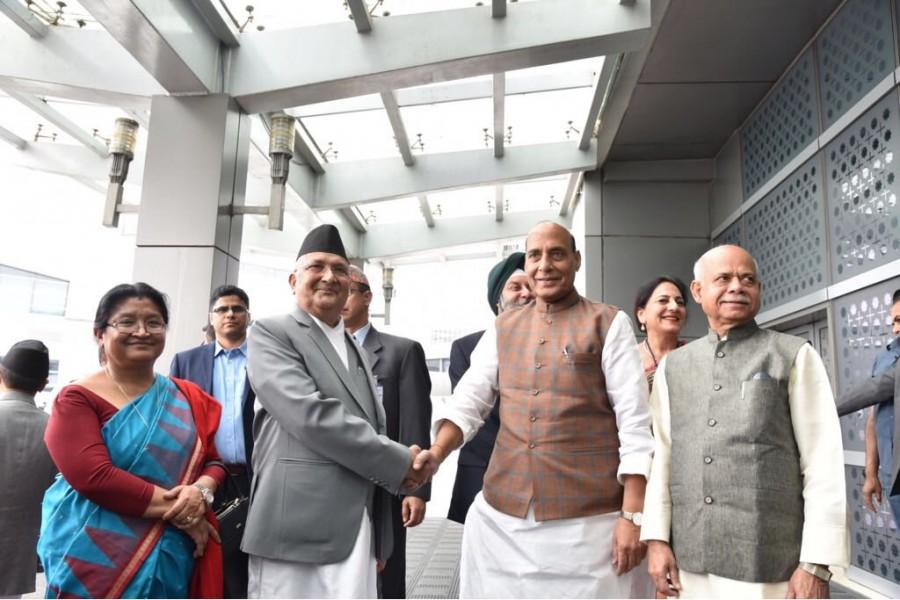 The two sides are expected to sign pacts related to agriculture, research and development, education and training, exploring the possibility of inland water navigation upto Indian ports from Nepal, and expansion of Indian rail up to Kathmandu between the two countries. In the evening, Oli will meet Prime Minister Modi and is expected to take up various issues including the early execution of India funded projects in Nepal, implementation of the Mahakali Treaty, which pertains to sharing water of a river by the same name, and construction of integrated check-posts.
Credit: Twitter/MEAIndia