1

of 5 A B-52 bomber is watched by a group of curious onlookers as it lands at RAF Fairford, February 21, 1999. The B52s arrived from the U.S.A. as part of NATO's preparations for air attacks on Yugoslavia as tensions in the Kosovo crisis increased.
Credit: Reuters
2

of 5 A man pats a dog in front of local red cross office and police station destroyed in last night's NATO air strikes on Kosovo's capital Pristina March 29. Residents of Pristina, capital of the southern Serb province, reported huge explosions throughout the province overnight. Jets were visible in the skies over Pristina and the aircraft flew very low, witnesses said.
Credit: Reuters
3

of 5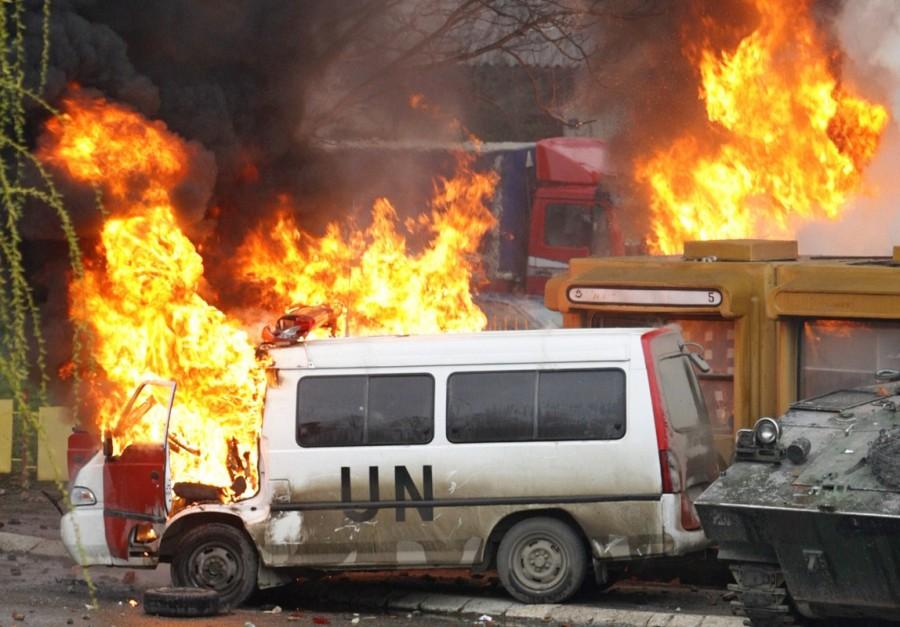 French NATO peacekeeping vehicles burn during clashes with Serb protesters in the ethnically divided city of Mitrovica March 17, 2008. NATO troops came under automatic weapons fire during Serb riots in the northern Kosovo flashpoint town of Mitrovica on Monday, a French NATO spokesman told Reuters.
Credit: Reuters
4

of 5
German soldiers from the NATO-led international peacekeepers cheer, as they watch Germany score a goal against Costa Rica during the opening soccer match of the World Cup on television, in Kabul June 9, 2006.
Credit: Reuters
5

of 5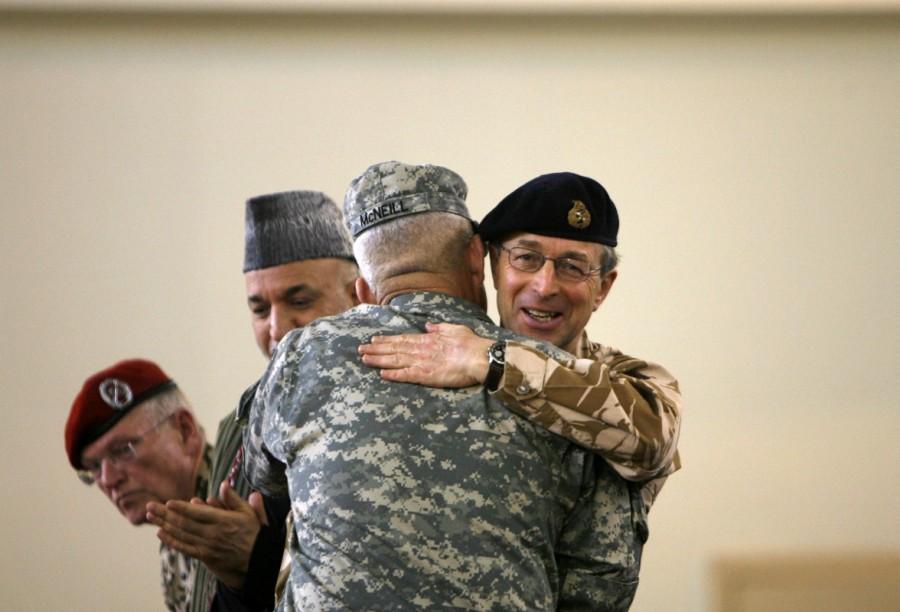 Outgoing NATO commander in Afghanistan British General David Richards (R) hugs NATO's new commander in Afghanistan U.S. General Dan McNeill during NATO's change of command ceremony in Kabul February 4, 2007. The United States, which has just doubled its combat troops in Afghanistan, takes over command of the 33,000-strong NATO force in the country on Sunday amid warnings of a bloody spring offensive by the Taliban. Second from left is Afghan President Hamid Karzai and left is Commander Allied Joint Force Command Brunssum German General Egon Ramms.
Credit: Reuters