1

of 2 Karnataka CM Kumaraswamy turns farmer
Karnataka Chief Minister H.D. Kumaraswamy on Saturday turned into a farmer to sow seeds for a bumper paddy crop at a farm at Aralakuppe village in Mandya district, about 100 km. "I have joined my farmer brothers and sisters in sowing paddy seedlings hoping for a good crop," the Chief Minister said on the occasion. Clad in a "dhoti" like a traditional farmer, Kumaraswamy got into a wet field and sowed the seedlings along with at least 100 other men and women farmers. Claiming to hail from a farmers' family, the Chief Minister assured the farmers his support and asked them not to commit suicide over failed crops.
Credit: Twitter/CMofKarnataka
2

of 2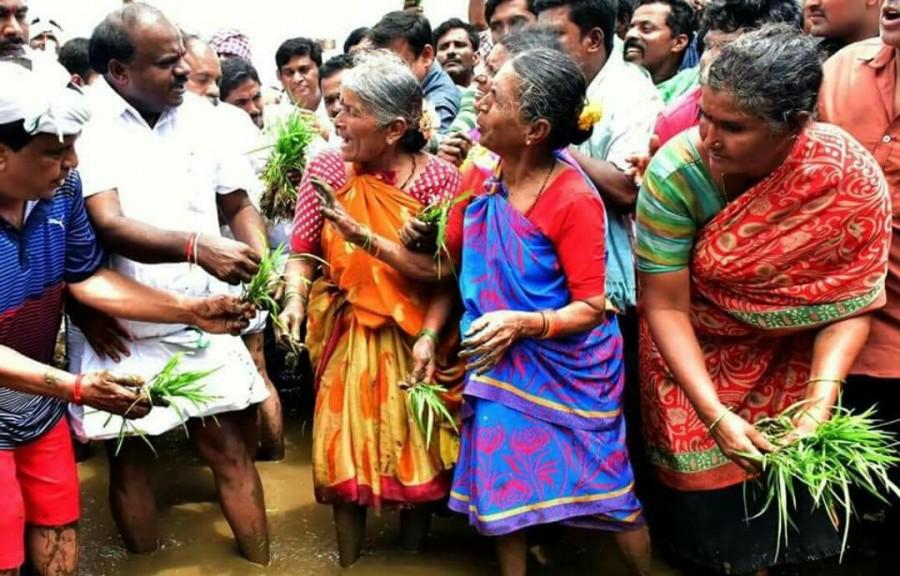 Kumaraswamy turns farmer, sows paddy seedlings for bumper crop
After the sowing activity, Kumaraswamy also had lunch with the farmers at the field. As part of the old Mysuru region, Mandya, facing a rainfall deficit, still hopes to receive rains for a good agricultural output.
Credit: Twitter/CMofKarnataka