1

of 5
Alia Bhatt- Katrina Kaif: Alia Bhatt and Katrina Kaif are great buddies in real life. They are often spotted having some chill time together. Recently both these loved actresses were also found working out together in a gym. These superstars must be surely cast in a film together.
2

of 5
Kareena Kapoor- Amrita Arora: Amrita keeps sharing some heavy workout videos of Bebo and her on social media sweating it out. These two yummy mummies are best friends who regularly hit the gym together. The BFFs and serial salon visitors have reached a new peak in their friendship, owing to their strong gym partnership. We would love to see this pair in some chic-flick together.
3

of 5
Varun Dhawan- Kartik Aaryan: Varun Dhawan and Kartik Aaryan are both known to be fitness freaks and both are gym buddies as well. Both of their social media accounts are flooded with videos and images from their fun workout sessions. The actors are trained under the expertise of Prashant Sawant, one of Bollywood best fitness trainers. This duo with a great comic timing can surely rock well in a movie together.
4

of 5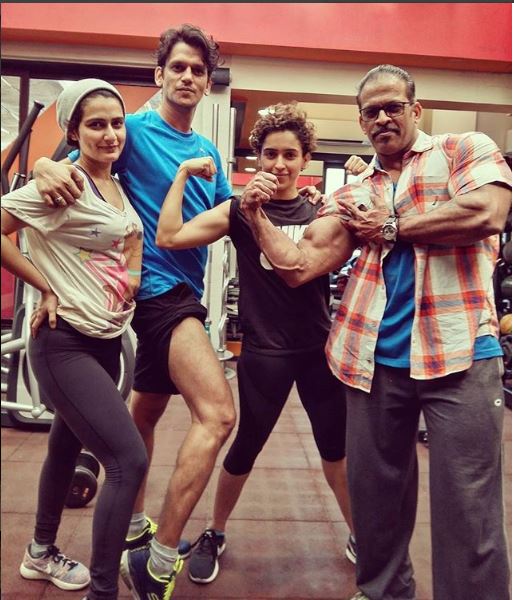 Vijay Varma- Sanya Malhotra- Fatima Sana Shaikh: PINK actor Vijay Varma has been recently working out with Dangal movie starrers Sanya Malhotra and Fatima Sana Shaikh in the gym. Vijay, Sanya, and Fatima are good friends off screen and motivate each other when it comes to heavy workouts in the gym. Sanya and Fatima were great together on screen but it would be interesting to see these 3 strong actors working their magic on screen.
5

of 5
Nimrat Kaur- Sara Ali Khan: From the looks of their social media, we can assume that the Nimrat Kaur and Sara Ali Khan are workout buddies. Nimrat even called Sara her favourite Khan in one of her captions. We'd so love to know the timeline of this new friendship on and off screen.