1

of 5
World No 3 Belgium stretched India till the final minutes of the match to split the points with a 1-1 draw at the men's hockey Champions Trophy here on Thursday. India made too many slip-ups in their defence that gave away five penalty corners in the last quarter, eventually messing up their 1-0 lead as Loick Luypert (59') converted Belgium's 10th attempt at a penalty corner to equalise. Harmanpreet Singh (10') was India's lone goal scorer that put Belgium on the back foot right at the start. Sitting at the bottom of the pool table, Belgium were desperate for a win and they began with that very intent, playing aggressive and attacking hockey. If not for an early save by India's seasoned goalkeeper P.R. Sreejesh off Cedric Charlier in the opening minute, Belgium would have well been ahead by a goal. But that didn't dent Belgium's pursuit as they continued to keep possession and even won the first penalty corner of the match after the ball hit Jarmanpreet Singh's foot. The chance was wasted though.
Credit: (Photo by Andy Astfalck/Getty Images)
2

of 5
India, meanwhile, built on their momentum steadily but tactfully. The effort helped win a penalty corner. Though the first attempt by dragflicker Harmanpreet resulted in another penalty corner being awarded, and the chance was capitalised by the 22-year-old when he powerfully flicked it past Belgium goalkeeper to take a 1-0 lead in the 10th minute. India continued into the second quarter with the same intensity but the pressure in defending right resulted in an infringement conceding a second penalty corner. But Sreejesh continued to be India's strong wall of defence at the post denying Belgium an equaliser. Both India and Belgium traded penalty corners in the following minutes, though neither made hay of the opportunities. India had made 17 circle entries by the second of the second quarter with 11 shots on goals and five penalty corners as opposed to Belgium's 10 circle entries with ten shots on goal and three penalty corners.
Credit: (Photo by Andy Astfalck/Getty Images)
3

of 5
Belgium made an encouraging start to the third quarter, winning a penalty corner in the 33rd minute but the effort was well defended by India. India gave away two more penalty corners this quarter but Surender Kumar and Sreejesh were up to task to keep India's narrow lead intact. Tom Boon's attempt off Belgium's 6th penalty corner was on target but for Sreejesh's exceptional save. A goal for India could have given India a breather in this quarter but it was not to be as umpire disallowed Mandeep's goal. Belgium were too quick to take off from the free hit before India could even think of a video referral. Ahead only by a goal, the final quarter was tense as Belgium began yet again with two back-to-back penalty corners but India defended well to steer clear.
Credit: (Photo by Andy Astfalck/Getty Images)
4

of 5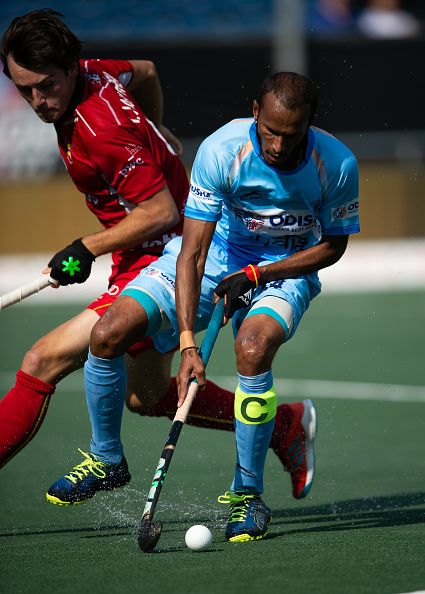 With a little over six minutes to go, S.V. Sunil called for a video referral asking for a foot of the Belgian defender which resulted in India being awarded their 6th penalty corner of the match. But the penalty corner hit the umpire before Belgium could launch a counter attack, as they created their 9th penalty corner of the match. Sreejesh once again rescued India from an equaliser but the action continued as Belgium attacked with all guns firing and sloppy defending on India's part gave away Belgium their 10th penalty corner of the match. And this time, Luypert kept it low to flick it towards Sreejesh's right for a perfect equaliser in the 59th minute.
Credit: (Photo by Andy Astfalck/Getty Images)
5

of 5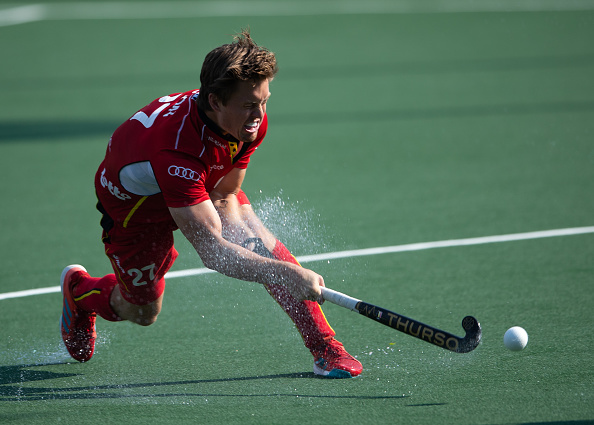 Belgium pushing for a winner ended up with yet another penalty corner with just 32 seconds to go for the final hooter. But Sreejesh survived this one to end the match with a 1-1 draw and keep India's hopes alive for a place in the final with a must-win match against the hosts on Saturday.
Credit: (Photo by Andy Astfalck/Getty Images)