1

of 5 The Movement Hotel, which opened this month in one tower of the Bijlmerbajes, once the Netherlands' most notorious prison, offers both a unique experience for its guests and a glimpse of a more hopeful future for its employees. The hotel is staffed and run by asylum-seekers, selected from a group of 600, mostly Syrians, who are being temporarily housed by the Dutch government - not under lock and key - in other parts of the complex.
Credit: Reuters
2

of 5 Asylum seeker Monjid from Syria brings food to visitors. Rooms cost 99-140 euros ($119-$168) a night. Each is decorated with a single word on the wall intended to invoke the many contradictions of the place: "Freedom?"
Credit: Reuters
3

of 5
A visitor takes photos inside the former The Bijlmerbajes prison turned Movement Hotel. The staff know their residence status is uncertain, but all hope to gain experience and build up their resumes as they dream of future employment in a more normal life. "We heard from the (Dutch) government that if the situation in Syria is safe, we must go back," said the hotel manager, Hachem, who like other staff asked that his surname not be used because of the potential danger to his family in Syria. Once he has been in the Netherlands five years, however, he hopes to get permission to remain long-term.
Credit: Reuters
4

of 5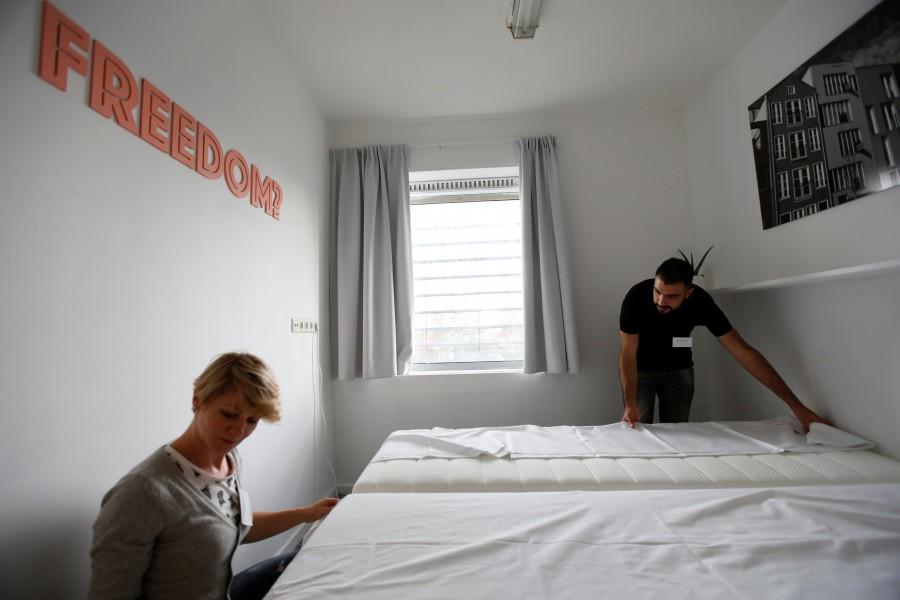 Housekeeping Manager Ella Delsanto and Monjid, an asylum seeker from Syria, are seen inside the former Bijlmerbajes prison. The Bijlmerbajes once housed notorious criminals, including the group that kidnapped beer magnate Freddy Heineken in 1983 for a 17 million euro ransom. The prison's name comes from the Bijlmer neighborhood to the southeast and "bajes", a Yiddish slang term for jail that entered Dutch via Amsterdam's Jewish population.
Credit: Reuters
5

of 5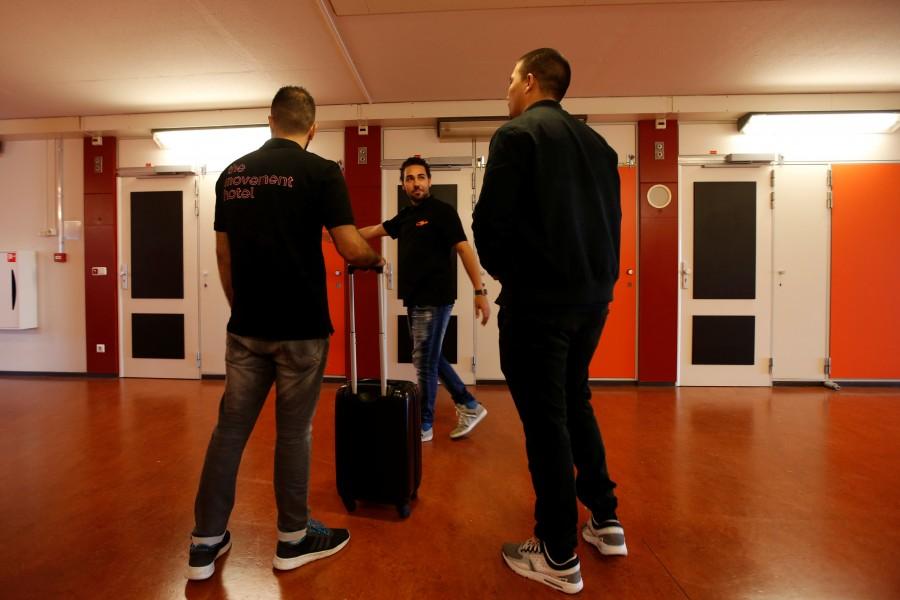 Asylum seekers, Monjid from Syria (L) and Bassit from Egypt, welcome a visitor. Rob Hoogerwerf, the Dutchman who organised the project with donations and the help of various authorities, says the staff are working toward a certificate that would let them work in the hospitality industry in the Netherlands - or wherever they end up. "We are helping them, or at least we would like to help them, to find their way."
Credit: Reuters