1

of 5
It was Sweden captain Andreas Granqvist's 65th-minute penalty conversion which created the difference between the two sides. Granqvist took a penalty following a video review and slotted the ball into the bottom right corner, with the goalkeeper diving the other way. This was South Korea's first loss in their World Cup opener since 1998, reports Yonhap news agency. South Korea put on some early pressure before Sweden turned the tide in their favour. For all their superior possession numbers early, South Korea made just one shot attempt, and none on target, in the first half, while Sweden had eight attempts, with two on target. South Korea had a 4-3-3 formation to start the match, with a couple of surprises. In goal, Jo Hyeon-woo made his World Cup debut over supposed starter Kim Seung-gyu. Kim Shin-wook, the tallest South Korean player at 197 centimetres, also got the nod as a starting forward up front, though he had been seen as a possible option off the bench. He was flanked by Son Heung-min and Hwang Hee-chan.
Credit: (Photo by Jean Catuffe/Getty Images)
2

of 5
Captain Ki Sung-yueng was the deeplying playmaker in midfield, with Koo Ja-cheol, captain at the 2014 World Cup, and Lee Jae-sung assigned attacking roles. Kim Young-gwon, a center back from the much-maligned back line four years ago, was back in the same position, with new partner Jang Hyun-soo next to him this time. Park Joo-ho got into his first World Cup contest as the left back. Lee Yong, another returnee from four years ago, started on the right side. South Korea spent most of the early moments in the Swedish zone, though they didn't test Robin Olsen in net. Sweden had the first real chance in the 17th minute, with center-back Granqvist jumping in on the attack following a Marcus Berg setup, only to have Kim Young-gwon make a solid clearance.
Credit: (Photo by Jean Catuffe/Getty Images)
3

of 5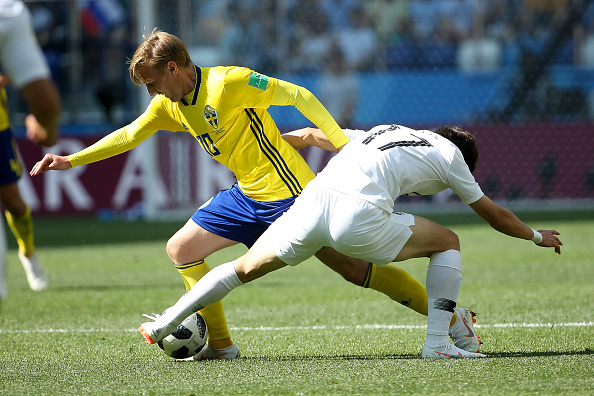 Then about four minutes later, Jo made an outstanding save to deny Marcus Berg from point-blank range at the left post, after the bouncing ball in a scramble landed on the Swedish forward's foot. After the ensuing corner, Pontus Jansson saw his header bounce wide of the target. South Korea caught a tough break in the 26th, when Park Joo-ho went down with an apparent right leg injury after trying to keep a long, cross-field pass in play. He landed hard on his right leg and grabbed the back of his thigh in pain immediately. Kim Min-woo replaced Park on defense. Son tried to start something for South Korea in the 35th minute, charging down the right wing past multiple defenders, but his cross from deep in the box went nowhere. Sweden kept the pressure on, but Jo made a fairly routine save on Granqvist's shot from just inside the box in the 44th minute.
Credit: (Photo by Jean Catuffe/Getty Images)
4

of 5
In stoppage time, Viktor Claesson soared to meet Mikael Lustig's cross but missed the net to the right. South Korea had a promising opportunity in the 52nd minute, when Koo, moments after getting stepped on by Sebastian Larsson, recovered to put a header to the side of the net. Jo had to make another brilliant save in the 56th to keep the match scoreless, denying Ola Toivonen on a header following a Larsson free kick. Jo and South Korea finally cracked just past the hour mark. Kim Min-woo would have gotten away with his tackle on Claesson in the past, but with the VAR in use for the first time, he couldn't escape 33 cameras in the 65th minute. Granqvist converted the penalty kick from 12 yards out.
Credit: (Photo by Jean Catuffe/Getty Images)
5

of 5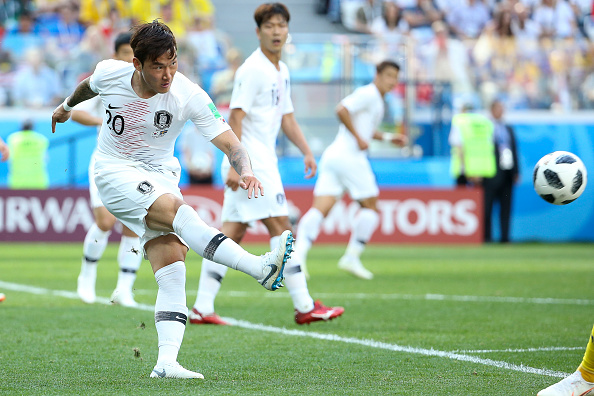 With Lee Seung-woo entering the match for Kim Shin-wook, South Korea switched to a 4-4-2 formation, but it did little to swing the pendulum. South Korea's last chance to draw level came during stoppage time, when Hwang Hee-chan's header missed the net to the left. South Korea kept buzzing around the Swedish net, with nothing to show for their effort. Second-half sub Lee Seung-woo, making his World Cup debut at 20 in the 73rd minute, failed to spark the stagnant offense.
Credit: (Photo by Jean Catuffe/Getty Images)