1

of 6
Peru ended their FIFA World Cup 2018 campaign on a winning note as they thrashed Australia 2-0 in their last Group C clash at the Fisht stadium here on Tuesday. It was also Peru's first win at a World Cup since 1978. Australia needed to defeat already eliminated Peru and hope France beat Denmark in order to reach the last 16. However, the South Americans shattered their hopes. Andre Carrillo's volley gave Peru a 1-0 lead over Australia in the 18th minute of the game. Their second goal came just five minutes after the break when Peru's record goalscorer Guerrero doubled his side's lead in the 50th minute. His goal came after some solid work down the left side by midfielder Christian Cueva.
Credit: Gettyimages
2

of 6
Peru's attack was still on fire in the second half when Guerrero scored. Australia hardly caused real threat to Peru's defense throughout the match and despite various attempts, failed to open their account till the final whistle was blown.
Credit: Gettyimages
3

of 6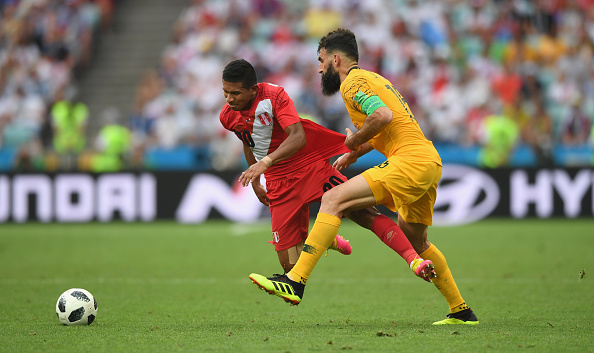 After the win, Peru finished third in the group with three points, followed by Australia in fourth place with one point.
Credit: Gettyimages
4

of 6
France, who have already secured the last 16 berth and rested several starters, were held to a 0-0 draw by Denmark in the other match of Group C.
Credit: Gettyimages
5

of 6
France topped Group C with two wins and one draw, followed by Denmark in the second place.
Credit: Gettyimages
6

of 6
France will now take on the runners-up in the group D containing Argentina, Croatia, Iceland and Nigeria while Denmark will face the team who finishes top.
Credit: Gettyimages