1

of 5 A bridge connecting Kansai airport, damaged by Typhoon Jebi
Japan on Tuesday was hit by Typhoon Jebi, the strongest and powerful storm to hit the island country in 25 years, causing violent winds and disrupting transport services. Japan's Meteorological Agency issued a caution on torrential rains and an increase in speed of the strong winds in both the eastern and western parts of the country. The typhoon first made landfall in the southern part of Tokushima Prefecture at 12 pm (local time), before striking for the second time near Kobe city at around 2 pm (local time), The Japan Times reported.
Credit: Reuters
2

of 5 Burned cars are seen on an artificial island after Typhoon Jebi hit the area, in Nishinomiya
Packing winds of up to 216km/h, Jebi is currently hovering near Anan city in Tokushima Prefecture. The storm also led to the cancellation of over 800 domestic and international flights and closure of tourist places in Japan. Both Nippon Airways and Japan Airlines have announced the cancellation of nearly 600 flights.
Credit: Reuters
3

of 5
Smoke is seen among containers damaged by Typhoon Jebi
The Meteorological Agency further said that Typhoon Jebi is expected to cross over the Sea of Japan by late Tuesday, drifting further north, and would weaken to an extratropical cyclone by Wednesday morning.
Credit: Reuters
4

of 5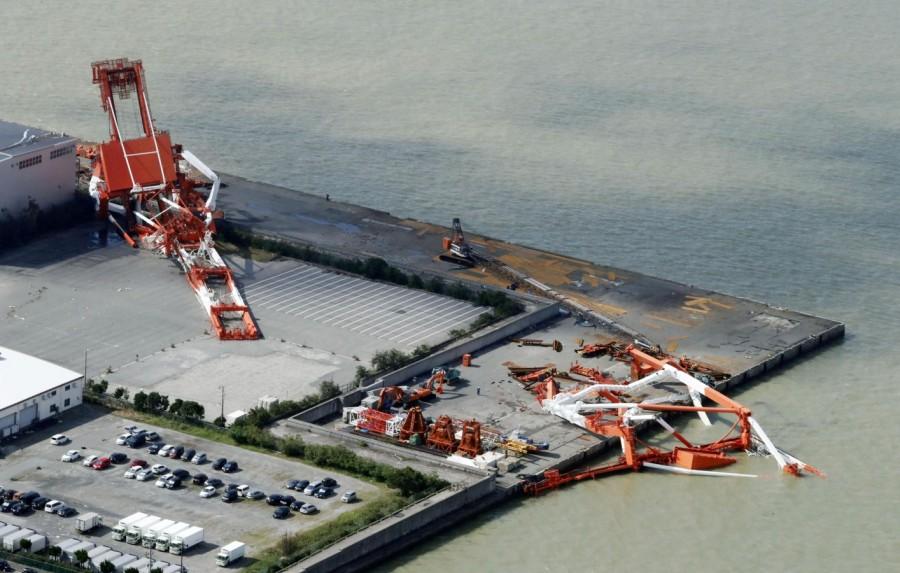 Cranes damaged by Typhoon Jebi are seen in Nishinomiya, western Japan
While around 500 mm of rainfall is likely to pound central Japan, another 400mm of downpour might fall in the western part of the country. The after-effects of the storm are unlikely to be felt in Tokyo.
Credit: Reuters
5

of 5
Containers damaged by Typhoon Jebi are seen in Kobe, western Japan
Japanese Prime Minister Shinzo Abe, who has been campaigning across the country ahead of the ruling Liberal Democratic Party's leadership election later this month, cancelled his trip to Kyushu region to take stock of the situation.
Credit: Reuters