1

of 4 The beleaguered Congress and Janata Dal-Secular (JD-S) leaders on Thursday staged a protest against BJP leader B.S. Yeddyurappa's swearing-in as the Karnataka Chief Minister, terming it unconstitutional. Leaders of the Congress and JD-S, who had hastily stitched a post-poll alliance, staged the protest in front of the state legislature building soon after Yeddyurappa was administered the oath of office by Governor Vajubhai R. Vala at the Raj Bhavan. "Constitutionally, we (JD-S and Congress) should have been given the chance to form the government as we together have the majority in the assembly.
Credit: Twitter/INCKarnataka
2

of 4 Among the leaders protesting were former Chief Minister Siddaramaiah, Congress General Secretary K.C. Venugopal and senior Congress leader Ghulam Nabi Azad, along with several newly-elected legislators from both the Congress and JD-S. Speaking to reporters, Siddaramaiah said: "Yeddyurappa first needs to furnish the list proving his majority in the House."
Credit: Twitter/INCKarnataka
3

of 4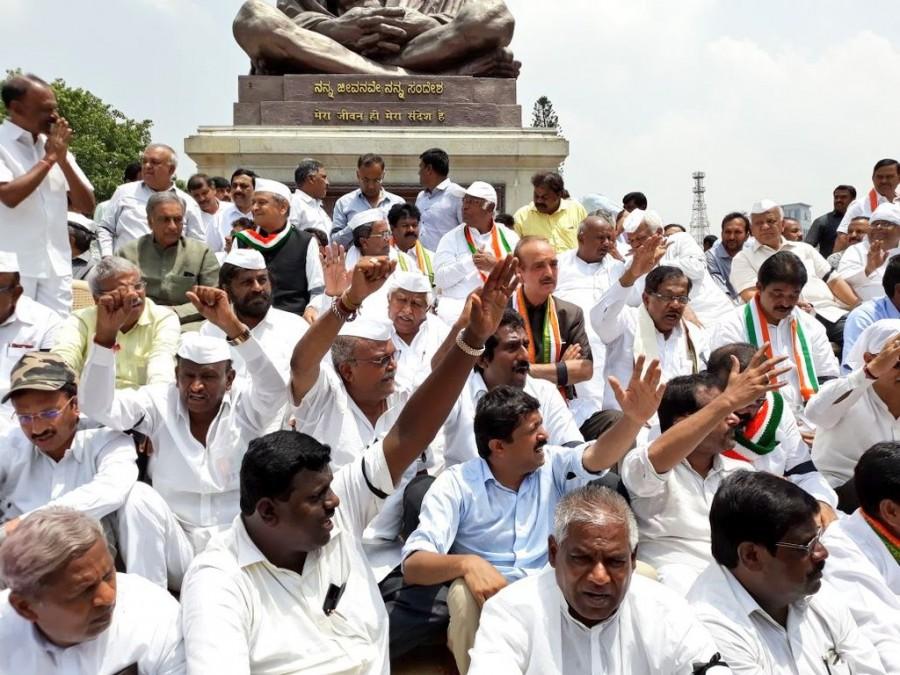 JD-S supremo H.D. Deve Gowda also joined the protest. The party's state president H.D. Kumaraswamy attacked Prime Minister Narendra Modi's government for "demolishing" the democracy.
Credit: Twitter/INCKarnataka
4

of 4
Venugopal alleged that Yeddyurappa being directed by the Governor to prove his majority on the floor of the House within 15 days was "only to allow horse-trading".
Credit: Twitter/INCKarnataka