1

of 8
Congress President Rahul Gandhi was trolled on Twitter on Monday after he said the maker of Coca-Cola was a "shikanji" (lemonade) seller in the United States and the founder of McDonald's used to run a "dhaba" (roadside restaurant). After his remarks, a hashtag #AccordingToRahulGandhi started trending on Twitter. "Who started Coca-Cola company? Do you know? I will tell you who. The maker of Coca-Cola was a 'shikanji' seller. He used to sell 'shikanji' in America. He used to mix sugar in water," said Gandhi while addressing the national convention of the Congress' OBC arm. "His experience and skill got recognition and respect, he earned money and Coca-Cola company was founded," he added. Gandhi further said: "You must have heard about McDonald's. The founder of it used to run a 'dhaba'. You show me one 'dhabawala' in India, who founded a company like the one as Coca-Cola. Where is it?" Here are some Funny tweets:
Credit: Twitter/gprasad28
2

of 8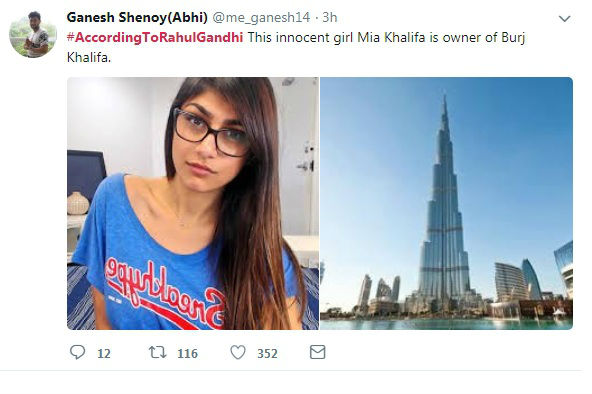 Ganesh Shenoy(Abhi) posted: #AccordingToRahulGandhi: This innocent girl Mia Khalifa is owner of Burj Khalifa.
Credit: Twitter/me_ganesh14
3

of 8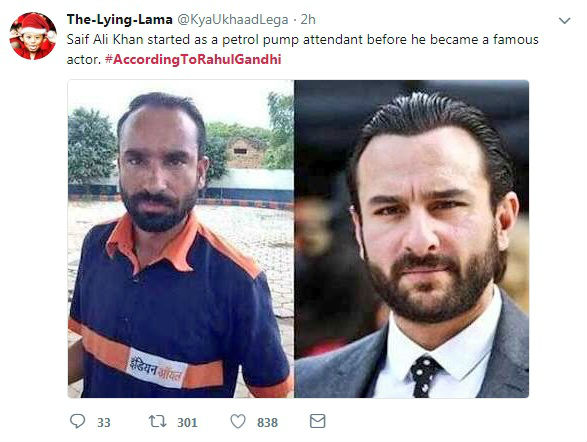 The-Lying-Lama tweeted: Saif Ali Khan started as a petrol pump attendant before he became a famous actor. #AccordingToRahulGandhi
Credit: Twitter/KyaUkhaadLega
4

of 8
Narendravid posted: #AccordingToRahulGandhi Founders of HP (Hewlett and Packard) before manufacturing Desktop, Laptop, Printers....
Credit: Twitter/narendravid
5

of 8
Srikanth posted: Founder of Harley Davidson #AccordingToRahulGandhi
Credit: Twitter/srikanthbjp_
6

of 8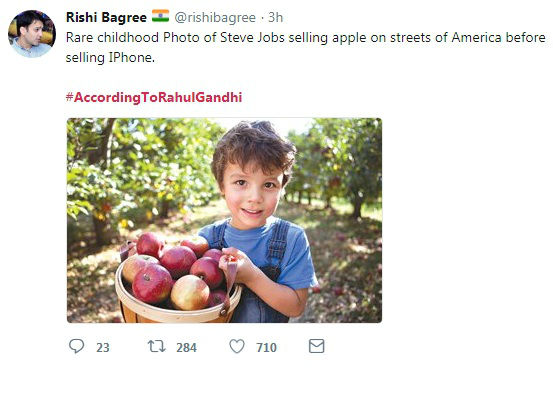 Rishi Bagree posted: Rare childhood Photo of Steve Jobs selling apple on streets of America before selling IPhone. #AccordingToRahulGandhi
Credit: Twitter/rishibagree
7

of 8
Paresh Rawal fn posted: Coca Cola's owner in his earlier days.. selling Shinkanji.. #AccordingToRahulGandhi
Credit: Twitter/Babu_Bhaiyaa
8

of 8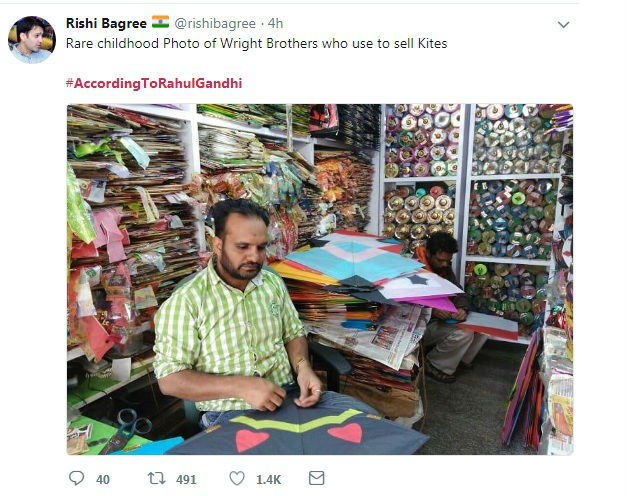 Rishi Bagree posted: Rare childhood Photo of Wright Brothers who use to sell Kites. #AccordingToRahulGandhi
Credit: Twitter/rishibagree