Keeping Up With The Kardashians star Kylie Jenner narrowly escaped a wardrobe malfunction in strappy mini-dress with horizontal strips while attending the inauguration of The Sugar Factory in Las Vegas.
Kim Kardashian's little sister came for the event alone after teasing about her new relationship status and the new boyfriend by adding several photos of herself with rapper Travis Scott on Instagram.
The first social media update from the television personality came14 hours ago sending her followers into frenzy. While one of her admirers wrote, "How drunk is Kylie now that she post this pic? Is she ok?" another stated, "Can't she do better than that... what's wrong with these girls get a nice decent man."
Also Read: Kylie Jenner copies sister Kim Kardashian and suffers wardrobe malfunction
Shortly, Keeping Up With The Kardashians star posted another image of herself, which was accompanied with the words, "too many moods in one pic." The snap was liked by around two million social media users and it garnered over 71,000 comments.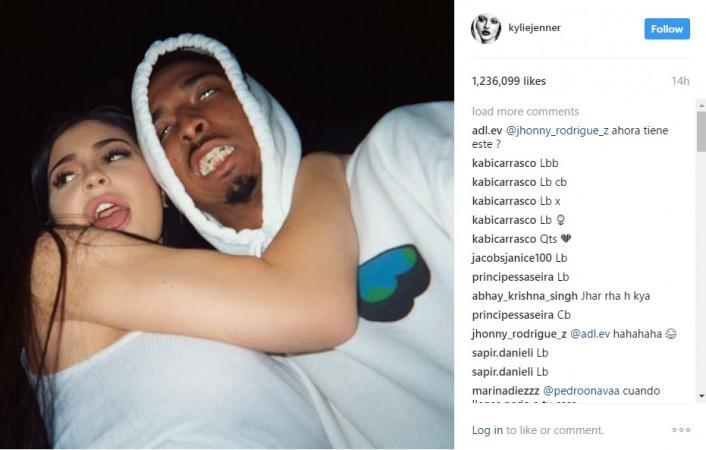 After seeing the new photos of her on Instagram, many of Kylie's fans were confused about her relationship with Scott. "Get a good permanent boyfrnd," wrote one of her followers on the comment section.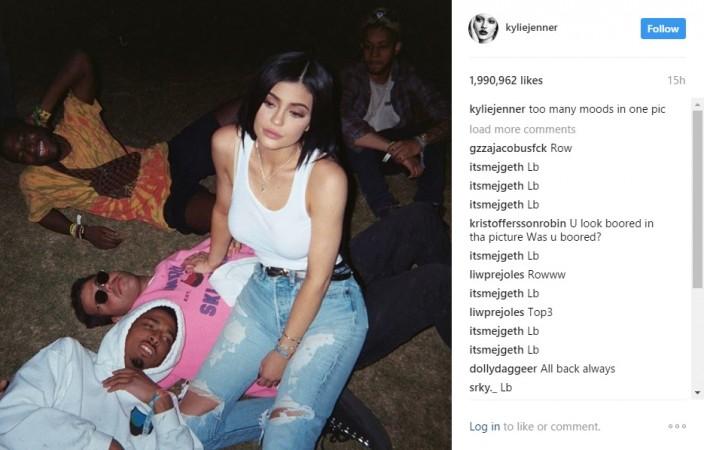 Without paying much attention to the fans, the 19-year-old fashion model posted another image on the photo-sharing platform and it featured her sitting alone in a room. The snap is captioned: "Hey Vegas."

After a couple of hours Kylie added a new photo of herself wearing a striped mini-dress, which she wore during the inauguration function of The Sugar Factory. The body-hugging outfit did not just display her toned legs and incredible curves, but also also gave fans an eyeful of her cleavage and boobs.