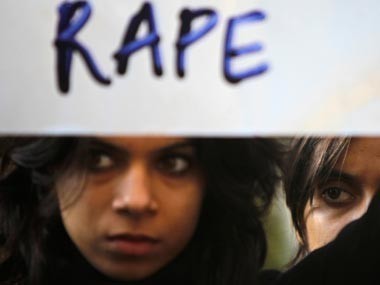 After a photo shoot by Mumbai-based fashion photographer Raj Shetye that looks chillingly similar to the 16 December Delhi Gangrape received a bitter backlash from the online community, the photographer said the photos were not based on the incident.
The photographer had shot glossy, fashion photos that show men forcing themselves on a woman in a bus for a series that he titled 'The Wrong Turn'. Netizens were quick to draw comparisons to the gruesome rape and murder of a paramedic, whom some sections of the media called 'Nirbhaya', by six men on a bus in New Delhi that had jolted the nation about women's safety.
However, Shetye told BuzzFeed that the photo shoot was "not based on Nirbahya" but was a means of "throwing light" on the safety of women.
Citing that the issue of safety of women concerns him, he said, "being a part of society and being a photographer, that topic moves me from inside. I stay in a society where my mother, my girlfriend, my sister are out there and something like this can happen to them also."
After he was slammed by the public for 'glamourizing the incident' through a fashion photo shoot, Shetye defended his work stating, "Being a photographer, the only medium I can communicate in is photos. Making movies, writing articles, making a poem — these are all ways of addressing the topic. Being a fashion photographer, this is what I can do best".
Shetye defended himself saying that the photo shoot was not done for commercial reasons but to send out a message.
"The message I would like to give is that it doesn't matter who the girl is. It doesn't depend on which class she belonged in — it can happen to anyone," he added.
He said that "this is in no way meant to glamorize the act, which was very bad. It is just a way of throwing light on it".
The photos were uploaded on the website 'Behance' by a model but they have since been taken down.
Twitter reacted angrily to the concept of the shoot.
Did i just see a fashion-spread depicting the Delhi gangrape of Nirbhaya? Disgusting!I hope all associated, die of shame! Insensitive swine!

— VISHAL DADLANI (@VishalDadlani) August 5, 2014
Rape is not inspiration for a fashion shoot.I don't know what the photographer was thinking doing an editorial shoot inspired by 'Nirbhaya' — Amrita Puri (@_Amrita_Puri) August 5, 2014
If until yesterday you hadn't heard of Raj Shetye but you know of him today, the object of his Nirbhaya photoshoot has been fulfilled.

— Nigel Britto (@NigelBritto) August 5, 2014
Also, whosoever came up with the Nirbhaya gang rape based fashion shoot , I hope they die a slow death. — Schrödinger'sCat (@stuffednstarved) August 5, 2014