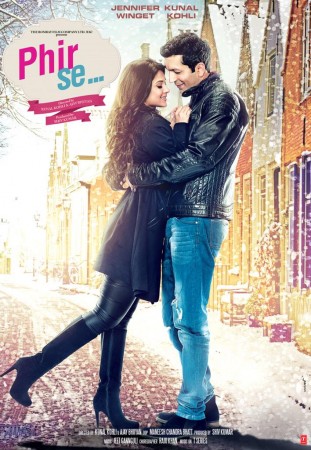 Debutants Kunal Kohli and Jennifer Winget's "Phir Se" trailer, which released recently, has received positive response. The story follows the lives of Jay Khanna and Kajal Kapoor who are willing to give love a second chance.
Talking about how she landed the film, the TV actress elaborated that she never underwent a grueling process, adding it was all wrapped up in just 2 days.
"It all actually happened very quickly, within a matter of two days. I got a call from Kunal one day regarding this film, so I went and met him. He narrated the script to me and I was bowled over. Believe it or not, that's all that happened. We completed the formalities in the next two days and it was done. I gave no audition," Winget said, Deccan Chronicle reports.
However, Kunal didn't have it easy as he had to take up private acting classes from Barry John. "I called Barry and said that I wanted to take up private classes with him. The funny part is that I told him I would pay him only if he would advise me against taking up acting," he told The Times of India.
Slated to release on 8 May, the film also features Sumona Chakravarti of "Comedy Nights With Kapil". The trailer has impressed quite a few and people took to social media to express their views. Here are some of the tweets:
LiveForJennifer: @jenwinget what a journey! It's just the beginning... I feel honoured to be your fan. My inspiration forever! Get ready for #PhirSe (sic)
JenniferWingetLover: @jenwinget #PhirSe Trailer looks Great!!! U look Simply Fab!!!!
Oishi: Here Comes "Phir Se" Trailer. It's Superb! All The Best @jenwinget (sic)
Bajrangi Salman: @jenwinget looks like a dream n @kunalkohli looks so promising. Will surely watch #PhirSe phir se in theatres (sic)
Check out the trailer below: