Accident between a public bus and a delivery van in the Philippines capital of Manila claimed lives of 22 people on Monday, leaving 20 others injured.
According to Reuters, the commuter bus wheeled off from an elevated highway, Skyway, in Paranaque City. "It was not clear how this accident happened," police spokeswoman Elizabeth Velasquez said.
"We saw the bus fall from there and it flew, and then it hit the van. When we got close, we just saw a lot of people pinned under it," shop owner Edith Voluntate told BBC. Another witness told authorities that the bus was speeding amid poor weather conditions.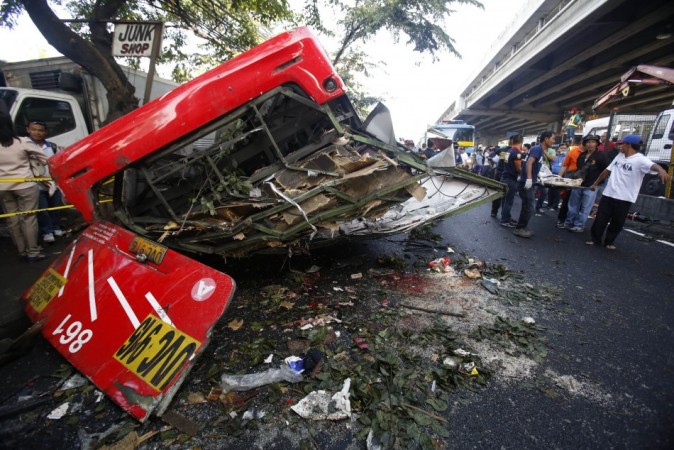 Rescue teams had to pull out dead bodies from the wreckage and rushed 20 survivors to the a nearby hospital for treatment, Velasquez added.
"Based on the account of witnesses, the bus was speeding when it apparently lost control, swerved and hit the wall of the Skyway, flipped-up and crashed on the van," Isidra Dumlao told Philstar.
The bus company involved in the mishap had its licence revoked for the next 30 days by government authorities. The Land Transportation Franchising and Regulatory Board has halted 78 units run by the Don Mariano Transit Corp following the crash.
The country has seen a rise in roadside accidents in recent years. In 2011, at least 1,900 people had been killed in more than 85,000 such disasters, according to the Asian Development Bank.