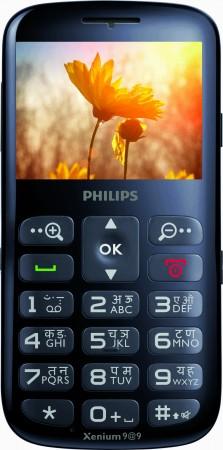 Philips mobile have launched Philips Xenium X2566, a phone exclusively designed for senior citizens. Featuring larger fonts, better battery life and an enhanced SOS function the device is also priced in an affordable range.
The Xenium X2566 features a 2.4-inch display with larger font for helping out easy reading for the elderly customers. The phone also houses a larger keypad for easy texting without straining eyes.
Powered by a 1,630mAh battery, Xenium X2566 uses a power saving technology to provide a battery life of 1,128 hours stand-by time and up to 24 hours talk-time, claims Philips. The phone has an internal antenna for FM radio, along with a high-volume loudspeaker and ear-piece for better audibility.
The SOS enables users to set three 'emergency' or SOS numbers. In case of an emergency, users can press the SOS button hidden under the flashlight to dial out the pre-set SOS numbers. It allows you to identify a maximum of three different numbers where you can get immediate help when emergencies occur, whether within or outside your home. When you activate the SOS button, the phone will automatically connect to these numbers until your call gets answered by any one of the parties. This life-saving design means that you can retain your independence while maintaining easy access to immediate assistance in case you need help.
It also comes with a 'Magnifier,' which allows users to magnify letters on your phone screen and a powerful flashlight that can be used even when the phone power is switched off.
"With changing lifestyles in metros in India and increasing incident of elderly abuse, senior citizens are often left to support themselves by choice or otherwise. We specially designed this phone to make technology more accessible to and user-friendly for the elderly with minimum intervention from others," said SS Bassi, SAARC country manager at Sangfei Mobility, commenting on the launch.
Retailing for ₹3,800, the Xenium X2566 is already up on sale across stores.