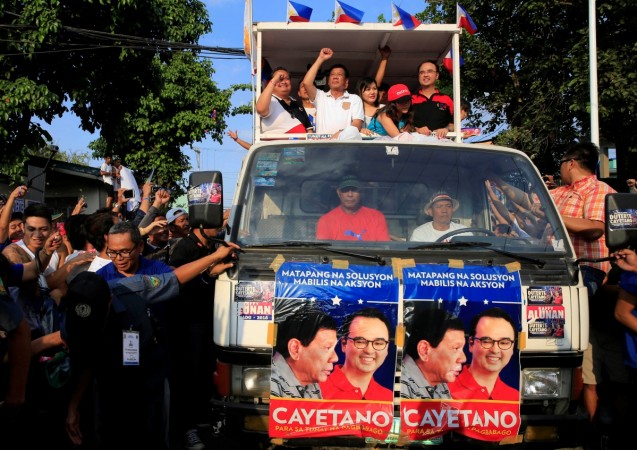 Philippines presidential candidate Rodrigo Duterte apologised on Tuesday for his gang rape comment after initially refusing to do so despite receiving flak from opposition candidates and human rights organisations. On April 12, Duterte said during a campaign rally that a 1989 gang rape victim in Davao was so beautiful he should have been first to assault her.
Duterte faced massive outrage after a YouTube video over his sexist comment surfaced with reference to a rape and murder case of an Australian nun during Davao's 1989 prison riot. Women's rights organisations and politicians not only condemned the sexist remark but also demanded an apology. He refused to apologise and instead defended the remark.
"I was angry she was raped, yes that was one thing. But she was so beautiful, I think the mayor should have been first. What a waste," he said, according to a CNN Philippines translation of the speech. The mayor in reference here is Duterte himself.
CNN quoted Duterte as saying "if it brings me down, let it bring me down. If it brings me up to the presidency, then well and good. I will serve you, but I will not as a matter of honour apologise for (it)" in his defence.
However, on Tuesday, the presidential hopeful was quoted by the news channel as saying: "I apologise to the Filipino people for my recent remarks in a rally. There was no intention of disrespecting our women and those who have been victims of this horrible crime."
"It was not a joke," he said, according to the Sydney Morning Herald. "I said it in a narrative. I wasn't smiling. I said it in the heat of anger. I'm sorry in general. I'm sorry to the Filipino people, it's my style, it's my mouth, I said it in anger -- listen to the story behind it."
His comment also earned him the ire of the Australian embassy in Philippines as the victim was among the 15 Australian missionaries who were taken hostage by prison inmates.
Other presidential hopefuls like Manuel "Mar" Roxas II and Senator Grace Poe labelled the comments as "distasteful" and said that someone "assaulting the dignity of women should not be allowed to wield power."